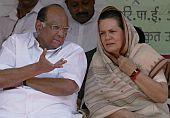 In the overcrowded local trains, auto-rickshaw stands, BEST buses and long queues at the Bandra-Worli sea link toll plaza, the staple language of Mumbai is Hindi, unlike most of the other cities of Maharashtra, where Marathi still dominates the public conversation domain.
Maharashtra Navnirman Sena (MNS) chief Raj Thackeray may consider this to be his happy hunting ground in Mumbai, but the ruling Congress-NCP alliance too, is eyeing the crucial 36 seats of this metro as the engine to drive it back to power at the Vidhan Sabha (state assembly) building near Nariman Point.
In 2004 elections, greater Mumbai area had 34 constituencies. Two more have been added to Mumbai after delimitation exercise.
In the Lok Sabha elections, the ruling alliance swept across Mumbai and bagged all the six seats. The Congress won Mumbai South, Mumbai South Central, North Central, Mumbai North West and Mumbai North seats, while the NCP managed to get Mumbai North East. But a closer look shows that of the Assembly segments attached to these seats, the Congress-NCP candidates came second or even third in as many as 12 constituencies.
As the ruling coalition leaders are not very confident about their performance in western and northern parts of the state, the seats in Mumbai may play a crucial role in tilting the power equations.
The power crisis issue may be a major source of discontent among ordinary citizens in other major cities including Nashik and Nagpur. But in Mumbai, people are not complaining about it. Rather they have other agenda, says Nitin Karnik, a citizen, while walking to the Churchgate station to catch train after office. "Many Maharashtrians, especially the youth, believe what MNS chief Raj Thackeray is saying is correct. Maharashtrians are getting deprived as outsiders snatch away the jobs here."
In a bid to counter the MNS, the Congress is leaving no stone unturned to secure the Mumbai seats. Congress president Sonia Gandhi has attended two rallies in the city and senior ministers like Salman Khurshid and Prithviraj Chavan have also been roped in to campaign for the party in the commercial capital of India.
While the rebel factor is not a major cause of concern for the two contesting coalitions -- Congress-NCP versus BJP-Shiv Sena, the presence of the Samajwadi Party might harm the ruling parties in consolidating the minority vote bank in its favour. In seats like Mahim, Kurla, Bandra, the Samajwadi Party has a heavy presence, especially among the local Muslims, and in the slum areas.
The Shiv Sena, too, is eyeing the opportunity to gain in Mumbai and reclaim power after a gap of 10 years. Playing its trump card, the party played a recorded speech of its patriarch Balasaheb Thackeray -- currently confined in his home -- to boost the morale of the workers and pour water on the MNS campaign.