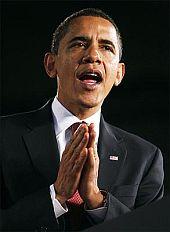 A 'humbled' United States President Barack Obama on Friday accepted the coveted Nobel Peace Prize as a recognition of the goals he has set for the United States and the world, including elimination of nuclear stockpiles.
In his reaction to the announcement by the Norwegian Nobel Peace Prize Committee, he said, "To be honest, I do not feel I deserve to be in the company of so many of the transformative figures who have been honoured by this prize".
"I am both surprised and deeply humbled by the decision of the Nobel committee," he said in a brief speech made from the White House Rose Garden. Obama said he did not view the prize as a recognition of his own accomplishments, rather as an affirmation of American leadership on behalf of aspirations held by people in all nations.
He said the Peace Prize must be "shared by everyone who strives for justice and dignity," and said he accepted it as a "call to action" for all nations to confront the common challenges of the 21st Century.
He said, "Some challenges confronting us, like elimination of nuclear weapons, may not be completed during my lifetime but I know these can be met so long as it is recognised that they would not be met by one person or one nation alone".
Meanwhile, mainstream American media has declared that the choice is largely a rebuke to the foreign policies of his predecessor George W Bush.
"In one sense, the award is a rebuke to the foreign policies of Bush, some of which the President has sought to overturn," The New York Times said in an article posted on its website.
The Washington Post, in its lead news posted on the website early today, said that in choosing Obama from among 205 nominees, the committee "appeared to be continuing its rebuke of the Bush administration's go-it-alone approach to world bodies and alliances, including its decision to go to war in Iraq without UN approval."
Advocating the need for reconciliation, Obama said the international community needed to pursue a new beginning based upon mutual interest and mutual respect among people of different faiths, races and religion, including the Israelis and the Palestinians.
"We must all do our part to resolve those conflicts that have caused so much pain and hardship over so many years and these efforts must include a non-wavering commitment to finally realising the rights of all Israelis and Palestinians to live in peace and security in nations of their own," he said.
Touching upon the pressing challenges confronting the world, Obama said all nations must accept their share of responsibility for transforming the way energy is used to combat the threat posed by climate change, "which could forever damage the world that we pass on to our children".
Obama said the award was deserved by numerous courageous people across the world, and must be shared with everyone who strives for justice and dignity. "the young woman who marches silently in the streets on behalf of her right to be heard, even in the face of beatings and bullets; for the leader imprisoned in her own home because she refuses to abandon her commitment to democracy; for the soldier who sacrificed through tour after tour of duty on behalf of someone half a world away; and for all those men and women who sacrifice their safety and their freedom and sometime their lives for the cause of peace".