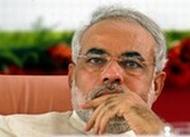 Gujarat Chief Minister Narendra Modi has alleged that the ruling Congress-Nationalist Congress Party alliance has failed to develop Maharashtra in the last 10 years despite some key central ministers hailing from the state.
"The state has lagged behind on the growth front under the present government though Union ministers of energy and agriculture belong to Maharashtra," the Bharatiya Janata Party leader said at a rally in Nashik.
Addressing an election rally in support of BJP candidates Balasaheb Sanap and Rahul Aher on Wednesday night, Modi said in Gujarat his government has developed all segments.
"We have developed the state in all sectors. The government has created jobs, focused on industrialisation and also there is no load-shedding."
Criticising the Congress-NCP government n Maharashtra and the ruling United Progressive Alliance at the Centre, Modi said despite Union Agriculture Minister Sharad Pawar hailing from Maharashtra, the state has seen large-scale farmer suicides.
The Union home ministry under Shivraj Patil, who also hails from the state, had failed to prevent the 26/11 terror attacks in Mumbai, the BJP leader said, and asked people not to vote for the Congress-NCP in the October 13 assembly polls.
Modi criticised Congress president Sonia Gandhi, saying she didn't utter a word about inflation and price rise while addressing a poll rally in Nashik two days ago.
State BJP chief Nitin Gadkari also spoke at the rally.
Image: Gujarat Chief Minister Narendra Modi