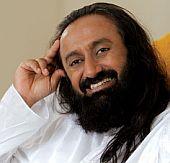 In his mission to unite the hearts and minds of the people in a post conflict scenario in Sri Lanka, Sri Sri Ravi Shankar, founder of the Art of Living, blessed over 10,000 people with meditation, prayers and sacred chants at the country`s largest indoor stadium in Colombo. 
This is Sri Sri's fifth visit to the island nation.
The mega event titled 'Uniting Hearts and Minds', held on October 5 brought people from all walks of life and from across the country. Several Christian priests, Islamic scholars, Buddhist monks, Hindu Swamis and priests came together in a spirit of unity and faith.
Several hundreds came in trains and buses from Jaffna, Tricomalee, Batticaloa, Vavuniya, Mannar, Galle, Matara, Colombo and several other far-flung areas to catch a glimpse of Sri Sri.
Sri Sri emphasised that the need of the hour was to live without fear, to join hands with everyone, to promote peace and build a prosperous society. During the visit dignitaries, diplomats and politicians also called on Sri Sri to seek his blessings.
The evening programme began with a session of Sukshma Yoga (Subtle Yoga) led by Sri Sri himself. Over 1,500 school children sang the traditional
Thevaaram
, which is unique to Sri Lanka.
Addressing the gathering Sri Sri said, "Peace and prosperity go together, so have peace in your heart, family and society and peace comes when you have trust and confidence. No one can take away your self-respect and dignity".
The highlight of the evening was the performance of the Rudra Puja, the ancient sacred process that has healed and uplifted the human consciousness over the centuries.
Explaining the meaning of Puja wherein we express our gratitude to the Divine, Sri Sri said that during the Puja all the elements of nature are honoured and respected,
underlining the fact that Divinity exists in every element of nature too. The sacred chants of the Rudra Puja reverberated in the indoor stadium where it was being performed for the first time in Sri Lanka.
Sri Sri also inaugurated and delivered the keynote address at the international conference on promotion of mental well-being organised by the World Health Organisation. Several international delegates are meeting in Colombo at the WHO conference to acknowledge and underline the role and importance of meditation, breathing techniques, yoga, pranayama and other healing processes for total well being.