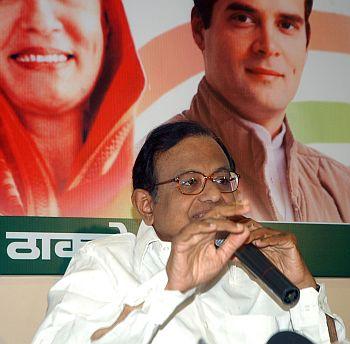 Talking tough a day after the beheading of a Jharkhand police officer, Union Home Minister P Chidambaram on Wednesday said the security forces will engage the Maoists till they abjure violence and the air force will take steps to protect itself from any Naxal attacks.
"As long as the Communist Party of India-Maoists believes in an armed liberation struggle, we have no option but to ask our security forces to engage them, we will arrest them, we will apprehend them," he told mediapersons in Mumbai.
He said the government did not consider the Naxalite confrontation as a war.
"We do not wage a war against our own people. What we said the Naxalite or CPI(Maoists) must abjure violence and take the path of democracy and dialogue," he said.
Asked about the Air Force seeking permission to fight back if the Naxals fire upon its helicopters and crew operating in Maoists-hit areas, the home minister said the Indian Air Force will take adequate counter-measures to protect its choppers and pilots from Naxal attacks.
However, the Home Minister refused to reveal any details. Chidambaram said an IAF helicopter was fired at by the Maoists a few weeks back in Chhattisgarh.
Air Chief Marshal P V Naik had said the IAF had sought permission from the Defence Ministry to open fire in self-defence if its helicopters or air crew operating in the Maoist-infested areas came under attack.
The home minister said the Centre would help the state governments to discuss with the CPI(Maoists) all issues concerned to them including developmental issues.
"Developmental issues, issue of neglect, deprivation, corruption and government structure. All these issues can be discussed. We can bring the very development that they claimed to be fighting for," he said.
Chidambaram said the state where violence stalks, no development was possible and violence was completely unacceptable in a democracy and a republic. "No republic and no government which has taken an oath under the Constitution can accept that theory of an armed liberation struggle," he said.
Text: PTI
Image: Union Home Minister P Chidambaram in Mumbai on Wednesday
Photograph: Sahil Salvi