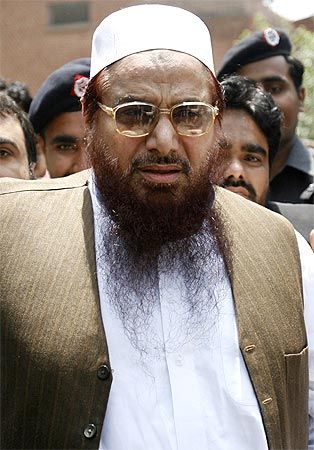 Banned JuD chief Hafiz Mohammad Saeed's "house-arrest" appears to be an eye wash as he is free to go where he wants and has been delivering sermons at Friday prayers and interacting with religious leaders.
Saeed, mastermind of the Mumbai terror attacks, delivered the sermon at Friday prayers at the organisation's mosque at Chowburji in Lahore last week, despite the Lahore police chief's contention that the JuD chief was "house arrest".
Saeed, also the founder of LeT, interacted freely with several religious leaders during the prayers.
"There is no legal order for Saeed's detention and so there has been no restriction on his movements," Senior Superintendent of Police (Lahore) Chaudhry Shafiq Ahmed said.
"We have not yet received any direction from the higher-ups to detain him (Saeed). There were only instructions last month not to allow him to offer Eid prayers at a particular mosque and that was only due to security reasons."
The police had only enhanced Saeed's security, he said.
His comments come nearly a fortnight after Prime Minister Yousuf Raza Gilani said Saeed was "in custody" of Pakistani authorities.
The drama of Saeed's detention was played out after police in Faisalabad city registered two FIRs against the JuD chief and one of his close aides – Abu Jandal – under the Anti-Terrorism Act of 1997 for inciting people to wage jehad or holy war against infidels.
The JuD chief and his aide were also booked for anti-government remarks in speeches made by them during a visit to Faisalabad on August 27 and 28.
Saeed had highlighted the importance of jehad in his speeches to his followers and also sought donations from his proscribed organisation.
Though it initially appeared that Saeed and Jandal would formally be arrested and indicted in fresh cases, SSP Shafiq Ahmed clarified that the "police usually do not proceed in such cases".
At the same time, Saeed has challenged the two FIRs registered against him through a petition submitted to the Lahore High Court.
He argued in his petition that preaching jehad was "no crime" and the cases had been registered against him due to "pressure of India and the US".
The high court will take up the petition on October 12.
Photograph: Reuters