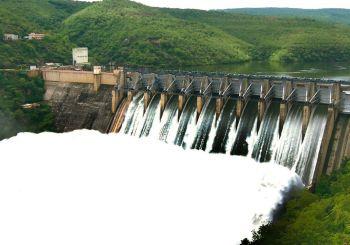 Army and airforce helicopters were on Friday pressed into service to rescue 25,000 people who were marooned in the worst-ever floods that hit Kurnool town of Andhra Pradesh following heavy rains and release of water from over-flowing dams.
Chief Minister K Rosaiah said boats are also being requisitioned to rescue the trapped people.
Kurnool is now inundated with four feet of water, even as the level is expected to rise by another four feet by midnight and yet another four feet by tomorrow afternoon, he announced.
Mantralayam in the district, home to the renowned Raghavendra Swamy mutt, was submerged with water and people reached atop their houses to save themselves.
Mantralayam Member of Legislative Assembly B Balanagi Reddy was himself stuck on top of his house with a large number of people and was desperately seeking help, official sources said.
"This is perhaps the worst flood in the history of the state. Never in the past have such water levels have been recorded," Rosaiah pointed out.
Meanwhile, the flood level in river Krishna will surge further with the inflows into Srisailam reservoir expected to touch a staggering 12-lakh cusecs in the next 12 hours.
In 1998, the discharge in the river was over 9.87 lakh cusecs, which resulted in widespread damage in Guntur and Krishna districts.
"We are making our best efforts to rescue the trapped people but the operation is hampered due to darkness of the night," he said, adding no casualties were reported on Friday.
Image: The gates of Srisailam reservoir in Kurnool were opened to release the flood waters | Photograph: Snaps India