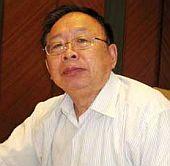 Shanghai-based Professor
Wang Dehua
first conceived the dragon-elephant tango in one of his many books as an analogy for the ideals of 'Chindia'.
Professor Wang, director of the Centre for South Asia Studies at the Shanghai Academy of Social Sciences, has made significant contributions in explaining India to the Chinese people.
In the last 40 years, he has visited India many times and studied its education policies, people's issues and successive governments's functioning.
Professor Wang, who works tirelessly for a stable India-China relationship, granted an e-mail interview to rediff.com's Sheela Bhatt on the eve of the People's Republic of China's 60th anniversary, on October 1.
What kind of celebrations are on in your country?

This year is the 60th anniversary of the founding of the People's Republic of China. Beijing and other places will hold a grand and warm celebration.

The national day celebration will display the history of the party's leadership, struggle of the people, business history, reform and history since the founding of new China, especially since the opening up 30 years ago, which have fully demonstrated China's prosperity and development, democracy and progress, civilisation and open international image.

The celebrations will further boost the national spirit, inspire patriotism, and further enhance our national self-esteem, self-confidence and pride. It will persist in reform and opening up to promote scientific development.

It will promote social harmony in order to win new victories in building a moderately prosperous society and realising the great rejuvenation of the Chinese nation to make unremitting efforts.
On the morning of October 1, the event will be observed at the Tiananmen Square in Beijing, where people from all walks of life will assemble.

President Hu Jintao will deliver an important speech followed by a grand military parade and mass processions.

We will focus on the military parade to display how the new China was founded 60 years ago, especially 30 years of reform and opening up of national defence and army building. The results show we are safeguarding world and regional peace and stability with firm determination. The event on October 1 will show the people's mighty and civilised army, and its excellent spirit.
How do you see China's rise in the global world order? How do the Chinese people want to be known in the world community?
China has stood among the greatest and strongest nations in the world through rapid progress in the past 60 years. China had a lot at stake and also wants to make a lot of contributions to the management of the world order. This is evident by the outcome of the summits in New York and Pittsburgh recently.
'This is an important development, broadening the global governance structure,' Indian Prime Minister Manmohan Singh told the accompanying media delegation, reflecting on the realisation among the other G-20 leaders of today's economic realities.

'With the rise of Asia -- the growth of India, China -- and Brazil, the economic decision-making has to take into account the views of these countries if it is to have an optimum impact,' Dr Singh said.
Do you think your leaders have met the people's aspirations in the last six decades?

The Chinese people think that 60 years is only a short moment in civilisation, but during this period new China has created numerous miracles. China, once an impoverished semi-colonial, semi-feudal country, has transformed from a fragmented nation to a united one; from being bullied to being widely respected; from being poor and backward to being thriving and prosperous.

China's economic output ranks third in the world and the Chinese people generally lead prosperous lives. All of them owe these to the wise leaderships of four generations. It is widely acknowledged that Chairman Mao Zedong let us stand up, senior leader Deng Xiaoping let us get richer.

Jiang Zemin plays the role of being the pathfinder. Hu Jintao -- the 'core of the fourth generation' -- advocates new concept of scientific development while practicing harmonious development.

Many critics say the lack of democracy in China is its biggest stumbling block on the global platform.
Many critics talk about the lack of democracy in China because they are deeply influenced by the Western media. From the beginning, China has tried with all efforts to establish a democratic system.
The founding of new China over the past 60 years, accompanied by socio-economic progress of China, is attracting worldwide attention. Political participation of Chinese citizens is showing a great change and development. Now wider political participation of citizens to express their interests in maintaining the progress is possible.
There is an impact on the acts of government's decision-making process. 'All power belongs to the people' -- that is being realised now.

Don't you think that in these 60 years China and India have wasted opportunities for closer ties due to the 1962 border conflict?
No. I do not think so. The border conflict interrupts healthy development of relations between the two countries. I think it is small prelude in the long history, but since (then prime minister) Rajiv Gandhi's 1988 visit the wounds of the brief Sino-India ties are healing.

Most Chinese are out of the shadow of the 1962 border conflict. They are thinking of how to make money and not about threatening another country. We both believe that both China and India are major developing countries and our relationship is of global significance with bilateral, regional and international dimensions.

China and India share broad and sustained common interests. China and India are true friends and cooperation partners.
Is China aspiring to become a world leader like the United States in the next 20 years?
China aspires to stand among the greatest and strongest nations in the world by achieving rapid progress after 20 years, but China will have a different image than what America has today.
China will not seek hegemony and wants to build a harmonious world with other nations.
Most Indian observers agree that China has encircled India and has been using the Pakistan card for the last 30 or more years.
Some critics said the US is trying to play the India card to contain China while China will play the Pakistan card or other cards to disintegrate India.
I think all these are mere guesswork and baseless. So far as I know, China has no 'pearl necklace' strategy to encircle India.
How will China manage its inequality and imbalanced growth in the western regions of the country?
China pays special attention to this issue. Under the leadership of Deng Xiaoping, the People's Republic of China began to reform its economy in 1978 by changing from a command economy to a market economy. The coastal regions of eastern China benefitted greatly from these reforms and their economies raced ahead.

The western half of China, however, lagged behind severely. In order to help the western regions, the state council created a leadership group for western china development in January 2000, and later adopted the new west development strategy, which has witnessed great achievements.
Is it true that the Communist party of China is divided on certain issues?
I do not think the Communist Party of China is divided on strategic issues though they may have different opinions during discussions.
How can relations between China and India improve?
To improve relations between China and India,
We should strengthen the Confidence Building Measures between our two countries;
Further expand and deepen our cooperation in economy, trade, finance, information, energy, science, technology, agriculture, human resources development, education and other fields;
Create conditions to solve the border dispute;
Encourage the academic and cultural exchanges, especially between youth.
Many Indians find China as turning ambitious and strident in its neighbourhood as it turns richer. How will you correct this image?
I am strongly against this. The best way is to educate them while we may learn from India. Please convey my greetings to all Indian friends!