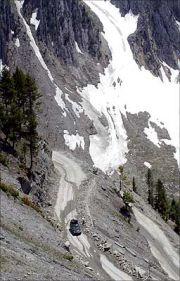 The work on a link-road in Demchok in South-eastern Ladakh region has been stopped after objections were raised by the Chinese Army, barely months after repeated incursions by it in that area.
The incident took place at the village of Demchok on the Indian side of Line of Actual control, about 300 km south-east of Leh district headquarters, official sources said.
Work on the road, which was to connect two villages -- the last inhabitated areas on the Line of Actual Control on Sino-Indian border in Demchok -- was stopped during the last week of October, they said.
The road was being built under Centrally-sponsored National Rural Employment Guarantee Scheme.
After construction of nearly 3.8 km of road, the Chinese Army sought a flag meeting with Indian Army and raised strong objections over the construction as they consider the area as disputed, officials said.
State Chief Minister Omar Abdullah said he has informed the Centre that the Chinese had raised objections over the road construction. "The Centre will take up the issue with the Chinese authorities," he said.
Cherring Dorjee, chief executive councillor of Laddakh Autonomous Council said, "About a month ago the village head of Domchu informed me that they are constructing a road upstream of Domchu-nalla, well within our boundary and then the Chinese Army came from the other side and stopped the work."
Dorjee said it was the same area where Chinese Army had sneaked in and painted rocks in their native script.
"Yes, it is the same area and the Chinese Army were actually coming to our side in the recent past. They have built a road on their side and we had no objection but this road is well within our boundary," Dorjee said.
Lok Sabha member from the area Hassan Khan said villagers informed him about the construction work being stopped after the completion of nearly half of the sanctioned length.
"The villagers have asked the district authorities, the executing agencies and the deputy commissioner to intervene in the matter," he said.
Deputy Commissioner Ajit Kumar Sahu had visited the area and submitted his report to the state government and submitted a report to the chief minister.
The state government had planned construction of seven link-roads in Niyoma and Damchok areas to increase connectivity and provide job opportunity to the people of this remote and treacherous mountain region, which is close to the LAC. The road was the first such link between T-Point and CNN-Point.
Union Minister of State for Defence Pallam Raju said the Centre would inquire into the matter.
"We will inquire into the matter. But, you know where the whole problem arises, in the different perception, on the actual border. That is why it is possibly been stopped. We will look into the matter," he said.
Image: An aerial view of the Ladakh region