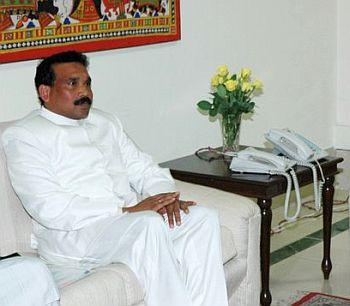 The Enforcement Directorate (ED) will on Thursday question former Jharkhand Chief Minister Madhu Koda in Ranchi in connection with an alleged Rs 2,000 hawala transaction case.

Koda will be questioned along with two of his associates -- Sanjay Chowdhary and Binod Sinha.
According to sources, Koda would be confronted with documents seized during the nationwide income tax raids on him and his associates, which began on October 31.


On October 9, the ED had charged Koda and his former Cabinet colleagues under the Prevention of Money Laundering Act (PMLA) for allegedly amassing assets worth several hundred crores.


Koda, an independent member of Lok Sabha and a UPA supporter, has been charged with having business interests of diverse kinds including in cement, steel, auto, power, agriculture and tourism. 

Apparently, the former Jharkhand chief minister had put his net assets at nearly Rs one crore at the time of the Lok Sabha polls.
In 2005, Koda had movable assets worth Rs 13 lakh, and by 2009, they rose to over Rs 94 lakh. His immovable assets also doubled to over Rs four lakh during this period.
These disclosures were made by Koda himself --  first in the affidavit he filed with the Election Commission at the time of contesting the assembly elections in 2005 and then earlier this year when he fought the Lok Sabha polls.
Koda won on both the occasions -- from Jagannathpur in 2005 and Singhbhum this year as an Independent candidate. According to the affidavits, his cash holding of about Rs 30,000 in 2005 also rose to Rs 13.6 lakh in 2009. He also purchased shares in blue chip companies like Tata Steel, Reliance Petroleum and SBI, the EC website says.
While in 2005, he had jewellery worth Rs 1.5 lakh, by 2009 he possessed ornaments worth nearly Rs 37 lakh. He owns agricultural land worth Rs 4.2 lakh as against Rs 1.1 lakh in 2005.
Koda, who earlier this month said he was a "poor tribal", has total assets worth over Rs 98 lakh, as per his disclosure with the Election Commission.
The assets include bank deposits, bonds, shares, other savings, two cars (Bolero and Indigo), jewellery and land.
He disclosed his bank deposits with three branches of SBI and one branch each of Allahabad Bank and Bank of India in Jharkhand.
The companies where he owns shares included Allahabad Bank, Reliance Petroleum (which has now been merged with Reliance Industries), SBI and Tata Steel.
In comparison, he had disclosed shareholding in only one concern -- Allahabad Bank in 2005. Most of these assets are in Koda's name, while some of the cash deposits, jewellery and land, are in the names of his wife Geeta and daughter Darshani Nagi.
Koda, who rose from a labourer in iron-ore mines to the chief minister's chair, is now being quizzed for allegedly being part of a massive corruption scandal.
The Enforcement Directorate and the income tax department over the past few days have unearthed Koda's alleged involvement in hawala transactions and illegal investments running into more than Rs 2,000 crore.
It is also alleged that some companies in which Koda and his eight associates had invested the money were actually a front for Naxal groups.