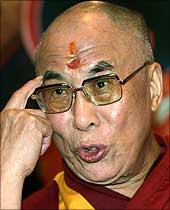 Angry over the Dalai Lama's visit to Arunachal Pradesh, China on Tuesday said it was 'strongly dissatisfied' with India for allowing the Tibetan spiritual leader to travel to the state, over which it lays claim. On the third day of the Dalai Lama's visit to Tawang, the Chinese Foreign Ministry said that China 'firmly' opposed the trip, which was 'separatist' in nature.
"The Indian side allowed the Dalai Lama to visit the disputed eastern section of the China-India border, regardless of China's grave concerns, and China is strongly dissatisfied with this," Foreign Ministry spokesman Qin Gang said at a news briefing.
"We firmly oppose the Dalai Lama's visit to the region," Qin was quoted as saying by the official Xinhua news agency.
The visit 'fully exposes the Dalai Lama's separatist nature', the spokesman said, adding "his attempt will not succeed."
China, which stakes claim on Tawang and the whole of Arunachal Pradesh, has been strongly objecting to 74-year-old Dalai Lama's visit, since it was announced in September.
The Dalai, who is on a week-long visit to Arunachal since Sunday, has characterised his 'emotional' trip as non-political and slammed China for opposing it.
India has made it clear that Arunachal Pradesh is its integral part and the Dalai Lama is an honoured guest who is free to travel anywhere in the country.