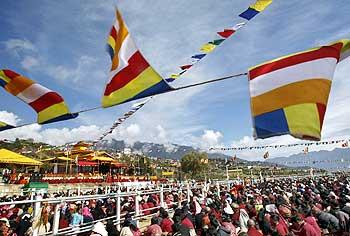 With his remarks on China making waves, the local administration has restrained the media from going anywhere near the Dalai Lama during his current visit to Arunachal Pradesh.
The administration on Monday night announced that the Dalai Lama's visit to the Khinmey Monastery, where he was supposed to consecrate a statue of Guru Padma Sanbhava, has been cancelled.
Although there was no official reason assigned to the cancellation, it is believed that it was done to prevent the media from coming into close contact with the Dalai Lama and pose questions to him about China.
Today, the exiled Tibetan spiritual leader continued his teachings at the Tawang Higher Secondary school ground, where thousands of devotees, including some from foreign countries, were in attendance.
Arunachal Pradesh's Information and Public Relations Department had issued a press release, asking the media to cooperate with the local administration and not pose any questions to the Dalai Lama regarding China.
"The media is requested not to put any questions to the Dalai Lama regarding China because of the recent controversies and over the claim of that country on Arunachal Pradesh," the release said.
Despite the administration's request, the strong media team in Tawang, which is covering the Dalai Lama's visit, managed to corner him during his first engagement, immediately after his arrival on November 8, at the Tawang monastery where he made his comments against China.
The Dalai Lama had expressed surprise over the country's objection to his visit to Tawang and indicated that Arunachal Pradesh was an integral part of India. This left the local administration perplexed and from Monday, security around the Dalai Lama was increased. He has not been allowed to interact with the media.
The security has been tightened and requests by eight media personnel to visit the Indo-China border at Bumla, nearly 37 kms from Tawang, has been put on hold by the Army.
Image: Buddhist people listen to teachings by their spiritual leader, the Dalai Lama, in Tawang | Photograph: Adnan Abidi/Reuters