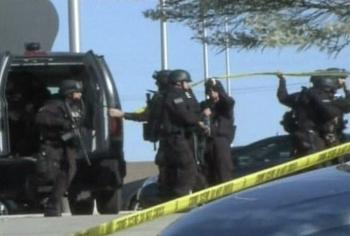 An American soldier gunned down 12 people at Fort Hood, Texas, the largest United States army base in the world, on Thursday.
The accused soldier, identified as Major Nidal Malik Hasan, was reportedly shot by a civilian officer, who was wounded in the shooting spree. The accused was in a stable condition, CNN quoted Lieutenant General Robert Cone as saying.
According to army sources, 31 people were injured as Hasan went on a shooting spree at approximately 1.30 pm on Thursday. Two of the injured soldiers are reportedly in a very serious condition.
A statement issued by US army from Fort Hood said the Department of Emergency Services had confirmed that more than one shooter fired shots in the Soldiers Readiness Processing Center and Howze Theater on Fort Hood. Three other soldiers, who had been held in connection with the incident, were later released.
According to reports, Hasan is a psychiatrist from Virginia, who was practicing at the Darnall Army Medical Center at Fort Hood. The Virginia Tech graduate had earlier worked at the Walter Reed Army Medical Center. Hasan, 39, is an American citizen of Jordanian descent.
Hasan, who was going to be deployed to Iraq, started firing from two handguns at the processing centre at Fort Hood. The processing centre is the place where soldiers bound for Iraq and Afghanistan fill out their papers.
Fort Hood has suffered the greatest number of casualties of all American bases in the war on Iraq. At least 25,000 people are at Fort Hood on any given day, an army spokesman at the Pentagon said.
The Senate and the House of Representatives held a moment of silence for the victims of the Fort Hood massacre, and Texas Governor Rick Perry ordered that flags be flown at half mast until Sunday.
Hasan, 39, was scheduled to be deployed to Iraq "and appeared to be upset about that" said Senator Kay Bailey Hutchison, who represents R-Texas.
"I think that there is a lot of investigation going on now into his background and what he was doing that was not known before," he said.
According to ABC news, while Cone did not rule out the incident as an act of terrorism, he said the evidence does not support that theory.
Meanwhile, Hasan's cousin Nader Hasan said she believed it was his upcoming deployment, combined with the wartime horror stories he heard from his patients, that set him off.
Hasan had recently hired an attorney to help him get out of the military. According to Nader, Hasan was also harassed after 9/11 because of his ethnicity, and was called a 'camel jockey'.
A senior commander at the base said that the army was trying to find out the motive behind Malik's rampage.
CNN quoted a witness as saying that the situation was one of 'total chaos', and soldiers had to cut off their uniforms to make bandages for the bleeding victims.
The army has issued strict instructions to soldiers against speaking to the media about the incident.
The sprawling army base at Fort Hood, located near Killeen, Texas, accommodates nearly 40,000 troops.
"It is an horrific outburst of violence. My immediate thoughts and prayers are with the wounded. And with the families of the fallen," said President Barack Obama.
"These are men and women who have made the selfless and courageous decision to risk, and at times give, their lives to protect the rest of us on a daily basis. It's difficult enough when we lose these brave Americans in battles overseas. It is horrifying that they should come under fire at an Army base on American soil," Obama added.
The President spoke to Secretary of Defense Robert Gates and Chairman of the Joint Chiefs of Staff, Admiral Mike Mullen, about the incident.
"We are working with the Pentagon, the Federal Bureau of Investigation, and the Department of Homeland Security, all to ensure that Fort Hood is secure, and we will continue to support the community with the full resources of the federal government," he said.
Obama, who rushed to his Oval Office to take stock of the situation, said, "We will make sure that we get answers to every single question about this horrible incident".
Vice President Joe Biden also expressed sympathy for the families of the slain soldiers. "We are all praying for those who were wounded and hoping for their full and speedy recovery. Our thoughts and prayers are also with the entire Fort Hood community as they deal with this senseless tragedy," he said.
Image: Members of a SWAT team at Fort Hood, Texas | Photograph: Reuters