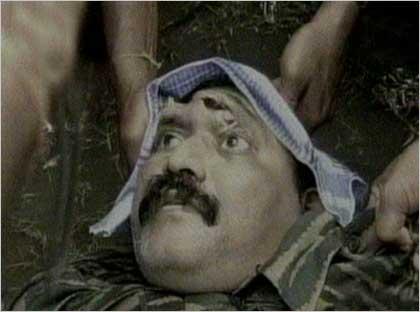 With a pro-Liberation Tigers of Tamil Eelam web site raising questions over Velupillai Prabhakaran's death, the Sri Lankan army today released photographs of the guerilla's dead body.
"Prabhakaran's body was found near the Nandikadal lagoon (in a no-fire zone)," military spokesman Brig Udaya Nanayakkara told PTI.
He said Prabhakaran was in military fatigues and there were bullet wounds on his head.
Giving details of the encounter in which the LTTE chief was killed on Monday, military officials said Prabhakaran and his two top commanders, Pottu Amman and Sea Tigers chief Soosai, drove out of their hideout in an armoured vehicle escorted by armed cadres in an ambulance.
They tried to drive through the army's security cordon, triggering a two-hour gun battle which ended when troops fired a rocket at the vehicle killing the occupants.
Prabhakaran's body, the officials said on Monday, bore burn marks from the rocket hit.