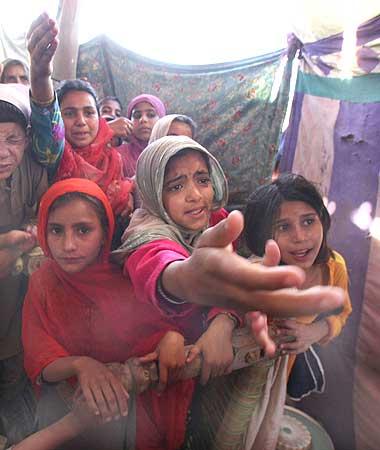 Jamaat-ud-Dawa is under the scanner again. Banned after being accused of terror links following the Mumbai terror attacks, the outfit has resurfaced at the centre of the aid effort to help hundreds of thousands of refugees fleeing Pakistan's war on the Taliban.
A special report in the Independent says, "Scores of volunteers from the charity are openly working to ferry refugees from the edge of the conflict zone to emergency camps and hospitals. They are also providing food, water and first aid."
Interestingly, the outfit's arms reach places where the government agencies don't not reach.
The report says, "The government undertaking that it had cracked down on Jamaat-ud-Dawa -- described as the charitable arm of LeT -- and pledged that it would not allow it to operate under a different name, volunteers say they are providing crucial services in an area where the government's resources are stretched.
The report says the outfit has changed the name as well.
Th report says in the city of Mardan, where thousands of refugees are being taken, the volunteers operate under the name Falah-e-Insaniat Foundation (Humanitarian Welfare Foundation).
In addition to the foundation's logo, the volunteers' tent was hung with black and white flags carrying the symbol of Jamaat, a curved scimitar.
"The foundation used to work under the name Jamaat-ud-Dawa," said one of the volunteers, Jafar Khan. "We are operating emergency camps near the conflict zone where we are giving first aid, water, juices and food. We have 12 ambulances. We are taking people to the camps and to the hospitals. Our supplies are coming from Punjab," the report said. 
Asked about the charity's motivations, another man, Dr Fazl-e-Azim said: "This is a humanitarian organisation. We help everybody, Muslims, Christians..."
During every such calamity, the outfit's volunteers are said to be offering help.
The government, the report says, is under fire for failing to close down the charity. The former interior minister, Aftab Sherpao, said: "They don't focus on anything. Banning Jamaat was just eye-wash. They just wanted the world to believe they were doing something."
Expectedly, security analysts are worried as they think the outfit may use the sitation to use recruit possible jihadis.
"I am not surprised by [the emergence of a front group]. Jamaat has been playing a very active role in the relief operation," said B Raman, an Indian security analyst.
Christine Fair, a Washington-based expert on LeT, said: "I had heard reports that Jamaat had changed its name. I'd also heard that even before it was shut down, its money had already been moved. Of course, it's Jamaat's strategy to continue cultivating public support."
Image: Children try to get free food at a distribution centre in Buner in Swat district on Wednesday.
Photograph:Asif Aziz/Reuters