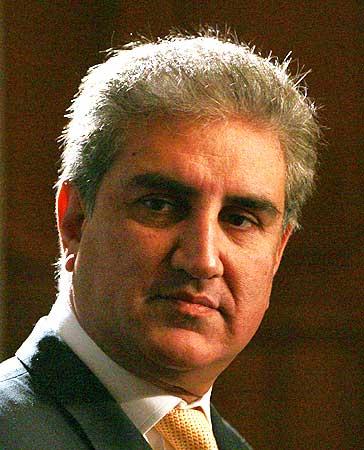 Pakistan has welcomed India's decision to withdraw troops from some areas in Jammu and Kashmir.
In an interview to Financial Times, Pakistan's foreign minister Shah Mahmood Qureshi said, "The move is certainly encouraging. They (India) have said not just a phased withdrawal of troops. They have also said that they want to rely more on police and other law-enforcement agencies besides the army. That is a positive step that will ease the situation within occupied Kashmir. That's a welcome sign."
Asked if what could Pakistan do in the Mumbai attacks case, he said, "Pakistan has the right approach and the right attitude, which is we cannot permit our soil to be used for terrorism. We do not condone such activities. If there are non-state actors who get involved in something like this, then Pakistan as a responsible country should do what is required. We will and we are doing what should be done. We want to cooperate."
At the same time, Qureshi said, his country's sincerity should not be questioned at any cost. He said in a detailed interview, "There are indications towards that. But what we are telling India is, one is evidence of this nature and the other is evidence that is legally tenable. What we are asking for is cooperation from India to provide us evidence which is legally tenable. If we take a case to a court in excitement to show progress and that case is not a watertight case and it boomerangs, then again our sincerity will be questioned. We do not want our sincerity questioned.
On Mumbai terror attack key suspect Hafiz Saeed's release, he said, "There has been criticism from India, one has read about it. But the point is, courts are courts and courts are independent. India themselves is a democracy and they themselves know how at times they can be helpless at court judgments. There have been landmark cases in India where the courts have made the government helpless."
Qureshi said the Punjab government was thinking of an appeal against the court decision.
Asked if the United States is interfering in Pakistan in several ways, "I don't think they are interceding or interfering in any way. They perhaps realise more than others, what are the challenges Pakistan faces. They are facing the same challenge in Afghanistan. This administration feels that one cannot improve without the other. If Afghanistan has to improve, then things in Pakistan have to improve. When Pakistan improves it has a positive impact on Afghanistan. The stability of one is inextricably linked to the other. With this realisation they feel that they have a stake in the region, they have their troops here who are fighting and who are dying and who are being injured. Despite the financial crunch, they are pumping in billions of dollars in Afghanistan for security purposes, for reconstruction, for development. Their stakes are very high."
Qureshi said he wants the world to help Pakistan in its hour of crisis.
What if the world does not? Then he says, "We will have to do it. They are our people, it is our country, we are suffering, we will have to do it. When we do it with our own resources, obviously other areas will suffer because we'll have to divert resources. This cannot be ignored. When we divert resources, our pace of growth and development will slow down somewhere, and I am sure that is not in everybody's interest. With or without the world's help, we have to do it. Certainly, world will facilitate."