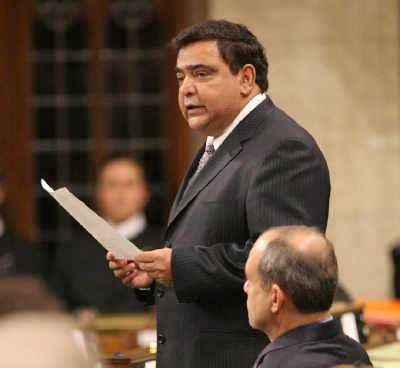 Conservative Member of Parliament Deepak Obhrai, Parliamentary Secretary to Foreign Affairs, who wanted to go to Sri Lanka to see refugee camps, has been denied visa to enter the country.
"I was going to go sometime end of this week to visit the refugee camps to see as we (Canadian government) wanted to have first hand report from the ground," he said in a telephone interview with India Abroad on Thursday. "I made a routine application for visa and my request was denied."
When asked why, Obhrai said the Lankan authorities only said, "They can't accommodate my visit at this time."
Bandula Jayasekera, Sri Lankan Consul-General in Toronto, told India Abroad that he wrote to his country's foreign secretary. "I know firsthand he (Obhrai) was not refused visa. The only thing we said was it was difficult for us to receive him at this time as we are having high profile Japanese delegation."
Jayasekera, in fact, read out an official response that he received from the foreign secretary in Colombo: 'Deepak (Obhrai) was not denied the visa but he was requested to come later due to the clash with the visit of the high level Japanese envoy Vaushushi Akashi, who deals with Sri Lanka.'
When this was pointed out to Obhrai, he said, "I don't want to argue with them. I say I made an application and they denied my request for a visa saying they can't accommodate my visit at this time."
The fact is "I wanted to go this week (it was to be an official visit) and they denied my request and that's all. I don't want to get into any argument with them."
Jayasekera said, "We always recognise and we have respect for the government of Canada and we are very close. We really appreciate what Canadian Prime Minister Stephen Harper and the Canadian government have done on the Sri Lankan issue. The visa for Mr Obhrai was not an issue. It was simply difficult to receive both the Japanese envoy and Mr Obhrai at the same time. Mr Obhrai can go at a later date."
Image: Deepak Obhrai speaking in the House of Commons