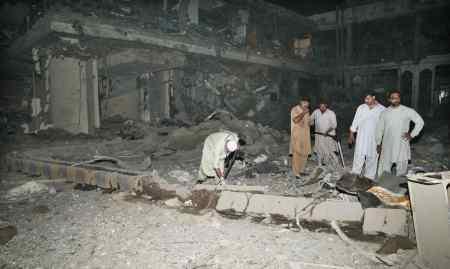 At least 11 people were killed and 55, including foreigners, injured when militants on Tuesday night  stormed a five-star hotel in the high-security cantonment of Peshawar city and set off an explosive-laden vehicle.
Four to five gunmen drove into the compound of the Pearl Continental Hotel and fired indiscriminately before detonating the vehicle packed with explosives at about 8.30 pm, witnesses said.
The rear of the hotel collapsed due to the impact of the powerful explosion which was heard from several kilometres away. The hotel's lobby, including several shops, was completely destroyed.
Police officials told reporters that 11 people were killed in the attack. Unconfirmed reports said three of the dead were foreigners but there was no official word on this. One body was found on the fourth floor of the hotel, which is frequented by foreigners.
Nearly 55 people, including several foreigners, were injured. The blast, which created a massive crater, destroyed about 30 vehicles in the hotel's parking lot and damaged a nearby mosque.
No group claimed responsibility for the attack, which came on a day when the Pakistani security forces destroyed the headquarters of Taliban leader Maulana Fazlullah in the Swat valley.
Rescue workers had to use ladders to access the building after the rear of the hotel collapsed. TV channels beamed footage of people in blood-stained clothes being carried out of the hotel and the mangled remains of vehicles destroyed by the blast.
Security agencies blocked all roads leading to the hotel after the blast as fire fighters, bomb disposal squad personnel and ambulances rushed to the site. Thick black smoke rose into the sky after the explosion. Officials also rushed several foreigners out of the hotel after the attack.
The Pearl Continental is located near the official residences of the Corps Commander of Peshawar and the police chief of the North West Frontier Province. Strict security arrangements are in place in the area and all cars are checked on the road leading to the Pearl Continental and at the hotel.
The hotel belongs to Pakistani tycoon Sadruddin Hashwani, who also owns the Marriott Hotel in Islamabad, which was attacked by a suicide bomber last year. Nearly 60 people, including two United States Marines, were killed in that attack.
A recent report in the western media said the US State Department had plans to purchase the Pearl Continental for use as the consulate in Peshawar. The Pearl Continental is Peshawar's only five-star hotel.
No group has claimed responsibility for the attack, though officials have blamed the Pakistani Taliban for a series of bombings and suicide attacks that have occurred across the country, since the army launched operations against militants in Swat and nearby areas last month.
Militants targeted the offices of the Inter-Services Intelligence agency and the police in Lahore in a recent attack. Suicide attackers have also struck in Peshawar, Dera Ismail Khan and Islamabad in the past few days.
Image: Security officials examine the site of the blast in Peshawar | Photograph: Ali Imam/Reuters