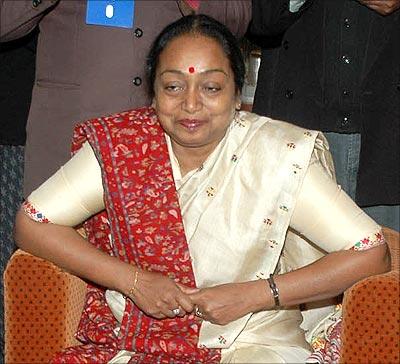 Meira Kumar, who has resigned as Union Minister for Water Resources, on Monday said she has been nominated as a candidate for the post of Lok Sabha Speaker by the United Progressive Alliance.
"Yes I have resigned (from the post of the Union Water Resources Minister). The UPA has nominated me for the post of (Lok Sabha) Speaker," Kumar told reporters.
She thanked Congress president Sonia Gandhi, Prime Minister Manmohan Singh and UPA allies for nominating "a woman" for the office of the Speaker.
She, however, declined to take any further questions, saying "I will talk on this only after June 3 when the election of the Speaker is scheduled".
Meira Kumar resigned as Water Resources Minister last night, just two days after taking charge of the ministry. Meira's resignation was immediately forwarded by Prime Minister Manmohan Singh to President Pratibha Patil for acceptance. Patil has accepted the resignation.
THE DALIT FACE OF CONGRESS
A diplomat-turned-politican and Congress' Dalit face, Meira Kumar has come a long way since entering electoral politics in the mid-1980s to becoming the first woman to be chosen to occupy the high office of the Lok Sabha Speaker.
Kumar, who is the daughter of late Congress stalwart Jagjivan Ram, came out as a surprise choice over veteran Congressman from Andhra Pradesh, Kishore Chandra Deo, whose name figured prominently in the last fortnight as the person being tipped for the Speaker's post.
A five-time MP, the 64-year-old Kumar quit the Indian Foreign Service in 1985 to join politics.
She resigned from the Congress in 2002, citing differences with the party leadership only to rejoin it two years later.
Soft-spoken Kumar first joined the government as a deputy minister in the P V Narasimha Rao ministry and was made a minister with a Cabinet rank when UPA took over the reins of power from NDA after the 2004 Lok Sabha polls.
The decision to chose her for the Speaker's post comes just two days after she took charge of the Water Resources Ministry.
She resigned last night as Union minister. With a degree in law and a masters in English in her kitty, she had joined the Indian Foreign Service in 1973 and served in the embassies in Spain, the UK and Mauritius. She also served as a member of the India-Mauritius Joint Commission.
Kumar was elected to the Lok Sabha from Bijnore in Uttar Pradesh in 1985. She was re-elected as an MP in 1996 and in 1998 from Delhi's Karol Bagh constituency but lost her seat in 1999 when NDA returned to power. Kumar was re-elected in 2004 from Sasaram in Bihar, the constituency of her father, and went on to become the Minister for Social Justice and Empowerment.
She served as an AICC General Secretary from 1990 to 1992 and again from 1996 to 1998. She was first made a member of the Congress Working Committee in 1990 and continued for ten year till 2000.
After a gap of two year, she was reinducted in the CWC in 2002 and remained its member till 2004. As an MP, she served, among others, as a member of the Public Accounts Committee, Committee on Home Affairs and its Sub-Committee on Personnel Policy of Central Para-Military Forces and Joint Committee on Empowerment of Women.
She was also a member of Committees on Food and Consumer Affairs and Environment and Foreign. Born in Patna on March 31, 1945, Kumar studied in Indraprastha College and Miranda House in Delhi University. She also has an advanced diploma in Spanish. She also hold medals for rifle shooting.
Armed with a law degree, Kumar became a member of the Supreme Court Bar Association in 1980. She has also won medals in rifle shooting and has keen interest in equestrian events. Married to Manjul Kumar, a Supreme Court lawyer, she has one son and two daughters.