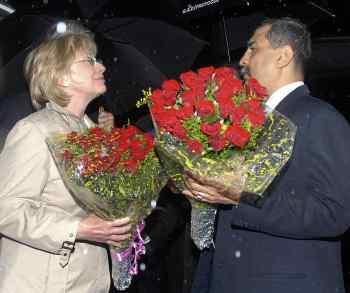 US Secretary of State Hillary Clinton arrived in Mumbai on Friday night on a five-day visit to India during which the two countries will launch a new chapter in their strategic partnership and deepen their engagement. The former US first lady, Clinton, on her first visit to India as US's chief diplomat will be spending the night at the Tower Wing of the Taj Hotel in an act of solidarity with the victims of the Mumbai terror attack on November 26, 2008.
Clinton flew in shortly after 10 pm from Prague where her special aircraft had a refuelling halt after the flight from Washington. It is her first foreign trip since she broke an elbow. A thick blanket of security was thrown around the Colaba area of south Mumbai where the Taj hotel is located and hundreds of security personnel were deployed to provide cover for the visiting US dignitary. Clinton will be meeting top Indian business leaders, visiting a centre of the Self-Employed Women's Association and paying tributes to martyrs' of the 26/11 attacks during her stay in the city.
Clinton is expected to leave for New Delhi on Sunday. In the capital, Clinton will meet Prime Minister Manmohan Singh and hold talks with External Affairs Minister S M Krishna. She will also meet United Progressive Alliance chairperson Sonia Gandhi and Leader of the Opposition L K Advani. She is also due to deliver a lecture at the Delhi university.    
Clinton's aircraft landed at Mumbai at 10:20 pm, a senior official said. She was received at the airport by Maharashtra government Chief of Protocol S Mulick and deputy chief of Protocol S Bijoor. Ahead of her visit, Hillary said President Barack
Obama's administration was "going to do everything we can to broaden and deepen our engagement" with the UPA government.
     
Clinton had also said, "we are starting a strategic dialogue between myself and the new Minister of External Affairs(S M Krishna)." Bilateral cooperation in civil nuclear field, defence and trade and investment are expected to figure prominently in
the talks Clinton will have with Indian leaders. The two sides would also focus on terrorism, particularly that emanating
from Pakistan, climate change, global economic crisis.In the civil nuclear field, the two sides would discuss ways to implement the landmark agreement. The two sides are in negotiations for setting up of two nuclear plants in India.
     
Krishna and Clinton are also expected to discuss the End User Verification agreement in defence field, under which the
US would be able to supply sensitive military equipment. The two sides are also expected to discuss ways to step up military cooperation, including joint exercises as well as the global economic crisis and cooperative ways to deal with
the problem.
    
Clinton's visit to Mumbai comes nine years after her husband, former president Bill, and their daughter, Chelsea, visited the metropolis. From New Delhi, Clinton heads to Thailand to lead the US delegation at the Association of Southeast Asian Nations talks.
Clinton's visit will be covered by the on-line media community.Social networking sites like Twitter, Flickr, and Facebook. The Americagov Twitter feed will be following Clinton, every step of the way during her activities in Mumbai and New Delhi, a release by the American embassy said.

The "Twitter" hash tag address #HillaryIndia can be used to follow and comment on the issues addressed during her visit.  Professional and cell-phone photos will be posted on on "Flickr" using the same tag, #HillaryIndia.

A big fan of new media social networking tools, Secretary Clinton encourages friends around the world to use new media to discuss important issues and share photos of her India activities.
Image: An Indian official greets US Secretary of State Hillary Clinton on her arrival in Mumbai on Friday night | Photograph: Reuters