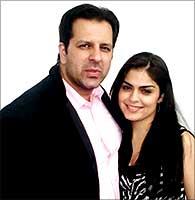 When Shelly Kakar and husband Gagandeep 'Calvin' Kakar decided to take a vacation to India in November, little did they know the end of a reunion back home would be so traumatic.
The Long Island-based couple was slated to get back to New York on December 10, but since his pregnant wife was not keeping well, Kakar chose to fly the December 25 Northwest Airlines Flight (from Delhi to Detroit via Amsterdam) that was subjected to an attempted terror attack. .
Everything during the long flight was uneventful, the Kakars said, except when the aircraft was nearing Detroit. "About 30 minutes before landing, we were asked to fasten our seat belts after we heard a sudden bang, resembling a Diwali bomb kind of sound, but not a phataka (fire-cracker)," Shelly Kakar who, along with her husband, was seated four rows ahead of the alleged terrorist Umar Farouk Abdulmutallab, said.
Even then, the 32-year-year old dentist, who had just finished the licensing exam in August, did not suspect any foul-play.
"I just thought that maybe some kid had uncorked a soda bottle. That it was an act of attempted act of terror never crossed my mind," Kakar said.
Since the seat belt was fastened, she could not stand up and look behind to see what was unfolding.
Seconds later, the realisation dawned after smoke and fire erupted. People started screaming and fellow passenger Jasper Schuringa, portrayed as a hero later, leapt over a row of seats and had Abdulmutallab in a headlock.
"When I looked back after untying the seatbelt, I saw flames belching from seat number 19 on the left side of the aircraft (where Abdulmutallab was seated) to the overhead light. Two seats were on fire. I saw that African man in flames, with his pants down. I almost got scared to death as everybody started realising that this guy was a terrorist," she said. "I started crying and praying even as my husband was trying to console me."
"Despite all that, the suspected terrorist had a defiant look on his face, showing no sign of any pain or remorse," she said.
There were many Indian passengers on the flight, according to Shelly Kakar. Other passengers were either Dutch or of African-origin. "There were not many Americans, I think," she said.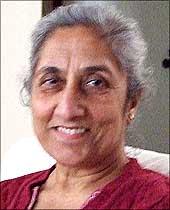 Among the other Indian-American passengers was Veena Saigal, who was returning home in Ann Arbor Michigan from New Delhi. The 63-year-old woman gave a similar account -- though she remains nonchalant about the whole episode.  
Saigal, who was on row 13, initially felt that something happened to the window when she heard the blast-like sound.
"I never imagined that my holidays in India would end up like this. But you know, when the end is going to come, it is going to come. No matter when and where and how," Saigal, who has been working for non-profit SOS community services for the past 18 years, said stoically.
"To me it was not that traumatic, but I could see young mothers and their children feel the pang. They were all crying," she said.
Kakar said she saw many people praying. "I saw many who were folding their hands in prayer like we do in India," she said.
Abdulmutallab was handcuffed and taken out in Detroit, but most passengers were still worried.
"Terrorists are always known to have a second plan. What if there was an accomplice of this guy inside the aircraft who might have had another bomb,' Kakar said.
She was, however, upset that the alleged terrorist was taken out of the plane before the passengers could disembark.
"I do not know why they did not do it. I feel the authorities should have evacuated us first," she said, adding that she did not have any grievance against authorities because "they did what felt they should do at that point time."
The horrifying story did not end there.
Kakar and fellow passengers were then made to wait for individual frisking and interviews by the Federal Bureau of Investigation officials.
"A fleet of police cars surrounded the plane. The airport was cordoned off. Every four feet or so, a sleuth was standing on both sides and they made us walk in single row. Adding to the misery, there were only two bathrooms. Passengers, 278 of us, had just one water fountain to quench our thirst. No one was allowed to open hand bags, or talk to anybody over cell phones. Police officers even escorted people to the bathroom. We were stranded there for seven hours. Maybe, that is what they had to do in the face of the situation, but it was terrible," she said.
Kakar and her husband could go back to their New York home only the next day evening -- that too after having made a special request.  
"I made a special request to them because I was pregnant and I was not feeling too well," Shelly Kakar, who is a strict vegetarian and professes Hinduism, said.
What was her husband's reaction on the flight?
"Initially my husband had the same reaction as I did, though he did not show it. When I talked to him later, he said he too was scared. He thought the fire might make a hole on the plane's floor, which could lead to a disaster. But when they took the terrorist off the aircraft, he thanked Jasper," she said.
Text: Suman Guha Mozumder in New York
Images: The Kakars (top); Veena Saigal (bottom)