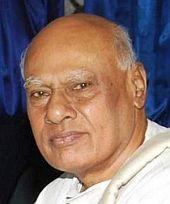 Caught in a political storm over separate Telangana, Andhra Pradesh Chief Minister K Rosaiah on Thursday said the onus of finding a solution to the ongoing crisis in the state lay with the government of India.
"The issue is not pertaining only to Andhra Pradesh now. It is for the government of India to show us a way to resolve the crisis and help restore normalcy," he told a press conference in Hyderabad, a week after Home Minister P Chidambaram's statement favouring the creation of Telangana.
Rosaiah also appealed to all sections, including the media, to help restore normalcy in Andhra Pradesh in the wake of the agitation for a unified state.
The chief minister said resolving the current crisis in the state would take more time.
Asked if he had suggested a possible way out of the situation, Rosaiah shot back: "If I had any such thing in mind, can't I resolve it? Why will I seek everyone's cooperation, including the media?"
He said he was ready to hold an all-party meeting to find a solution to the impasse, but felt that it would not be possible for all political parties to make a collective representation to the Centre on the issue.
The chief minister also said agitations would not solve a problem but would rather aggravate it.
"People and political parties, including Congress, should observe restraint and cooperate in brining about normalcy in public life, which has been fully paralysed for the last 20 days," he said.
Rosaiah said the ongoing crisis had left a telling impact on development works in the state.
"It is also seriously affecting government revenues as businesses remain paralysed. With the transport sector badly affected, it is causing price rise. This is impacting the common people who have also lost their daily earnings because of the strife in different regions," the chief minister noted.
He, however, did not agree with the contention that the administration has collapsed in the state.
"The government is functioning and the administrative machinery is not paralysed. But there are pressures," he said.
He also did not agree with the suggestion that the administrative machinery was divided along regional lines in the wake of the ongoing agitations for and against the bifurcation of Andhra Pradesh.