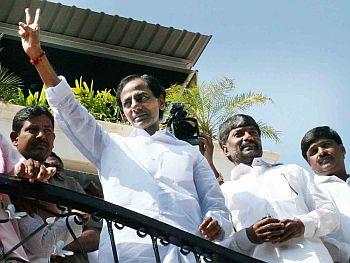 The political crisis in Andhra Pradesh triggered by the Telangana issue showed no signs of easing on Sunday with four Telugu Desam Party leaders launching an indefinite fast opposing bifurcation of the state, even as ministers, who threatened to quit, maintained silence on their move.
Telugu Desam MLAs Devineni Umamaheswara Rao (Mylavaram) and Chinnam Ramakotaiah (Nuzividu), along with former mayor of Vijayawada Panchumarthi Anuradha and party leader B Umamaheswara Rao sat on the indefinite hunger strike in Vijayawada, the epicentre of the anti-Telangana protests.
On the other hand, Ramesh, TDP MLA from Karimnagar in Telangana region, submitted resignation both from his assembly membership as well as the party in protest against the TDP's 'doublespeak' on Telangana.
Suspense continued on the issue of resignation of more than 20 ministers, who had on Saturday decided to quit opposing the formation of Telangana.
There was no word on whether they stick to their stand and press their resignation or withdraw it. The ministers, all hailing from coastal Andhra and Rayalaseema regions, are expected to make their stand public soon, sources said.
However, state Congress chief D Srinivas hoped that no minister will step down while appealing to the legislators to withdraw their resignation, saying, "They have made their stand known and the high command will now take a decision."
In New Delhi, Congress MP from Vijayawada L Rajagopal, who resigned his Lok Sabha seat over the Telangana issue, threatened to go on a hunger strike if a resolution favouring the formation of a separate state was not introduced in the state assembly and claimed that it would be opposed by more than 225 MLAs.
Rajagopal said he would join the movement for a unified Andhra Pradesh and against creation of Telangana.
In Hyderabad, ministers from the Telangana region are expected to meet shortly and chalk out their future strategy. Senior Congress MLA J C Diwakar Reddy, who was the first to submit his resignation, asked the Centre to depute an emissary to clarify doubts created by statements from central party leaders on the Telangana issue.
"Union Home Minister P Chidambaram, Finance Minister Pranab Mukherjee and the Union home secretary have spoken on the issue. There is some confusion. We request the Centre to send a representative to clarify the doubts. It will help restore normalcy in the state," he told mediapersons.
Meanwhile, protest rallies and fasts continued in coastal Andhra and Rayalaseema regions in support of a unified Andhra Pradesh. The anti-Telangana protesters were holding a series of relay and indefinite hunger strikes at several places in these districts.
However, there were no reports of any violence. Two Praja Rajyam Party legislators -- Y Srinivas and Y Ravi -- met the TDP leaders, who are on fast in Vijayawada, and expressed solidarity with them.
Image: Telangana Rashtra Samithi chief K Chandrashekhara Rao in Hyderabad
Photograph: SnapsIndia