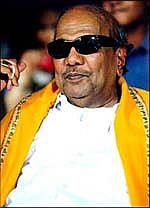 Key United Progressive Alliance ally Dravida Munnetra Kazhagam and opposition Bharatiya Janata Party were on the same page on Sunday in their criticism of the Centre and the Congress over the handling of the Telangana statehood issue, which has spawned a crisis in Andhra Pradesh.
DMK supremo and Tamil Nadu Chief Minister M Karunanidhi said 'a delayed decision and hasty announcement' on Telangana by the Centre had led to the current crisis in Andhra Pradesh, while senior BJP leader Arun Jaitley accused the Congress of messing up the issue of carving a new state out of AP.
"What we understand is that there should not be a delayed decision followed by a hasty announcement," the DMK patriarch, whose party is a key constituent of the UPA government, said, commenting on the Centre's handling of the Telangana issue.
In Ranchi, Jaitley alleged that the Congress 'failed' in dealing with the Telangana issue smoothly as it did not even bother to discuss with its own legislators, let alone the opposition.
Accusing the Congress of messing up Telangana issue, he claimed that had the Centre taken a leaf out of the erstwhile National Democratic Alliance government's procedure in carving out three states in 2000, it would not have found itself in a 'mess' on the Telangana statehood.
"Jharkhand, Chhatisgarh and Uttarakhand came into existence amidst peaceful and happy atmosphere. But now even the Congress legislators are objecting because their consensus was not sought," he added.
Jaitley accused the Congress of not carrying out the democratic procedure on Telengana. "A thorough study should be made before creating smaller states in future. Consensus should be taken from all the sections concerned to maintain social harmony," Jaitley told mediapersons.
Image:DMK supremo K Karunanidhi