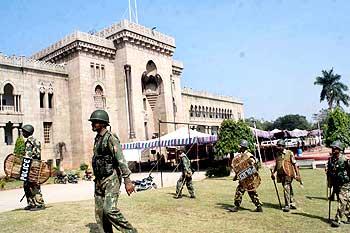 Maoists and other outside elements have infiltrated the ongoing pro-Telangana movement in Andhra Pradesh, a top police official said on Wednesday.
Inspector General of Police A R Anuradha told media persons that intelligence reports indicated that Maoists had definitely infiltrated the movement.
 
"If you look at the sort of people who were sitting in protest at the Osmania University campus, you will know it," she said.
"It is the old concept of Maoists that they should have a toehold in the Dandakarnya forest which passes through Telangana. The movement is to their advantage and they will support every such movement," she added.
 
As part of this strategy, police and paramilitary forces forcibly removed the agitating students from the sprawling campus of Osmania University in Hyderabad on Wednesday and closed its gates. They also arrested several students including ten leaders of the students' Joint Action Committee.
 
The Andhra Pradesh high court today ordered the state government to reopen the university hostels. Acting on a petition of pro-Telangana lawyers, a single judge bench of the high court ordered the government to withdraw its orders shutting down colleges in the Telangana region for fifteen days.
 
But after an appeal by the state government, a division bench of the high court partially struck down the single judge's order. The division bench upheld the government's decision to shut down the colleges but asked it to reopen the hostels and resume power and water supply to the students. The court also asked the government to ensure that only genuine students with valid identification cards should be allowed to stay on campus.
 
In view of the proposed rally by the Telangana Rashtriya Samiti and the planned siege of the state assembly by students on Thursday, the assembly and surrounding areas in Hyderabad have been put under a massive security blanket. Five major flyovers in the city have been closed down and many prominent roads have been closed to traffic.
 
The state government has already declared a holiday for schools in Hyderabad on Thursday. 
Image: Central Reserve Police Force personnel at the Osmania University on Wednesday | Photograph: Snapsindia