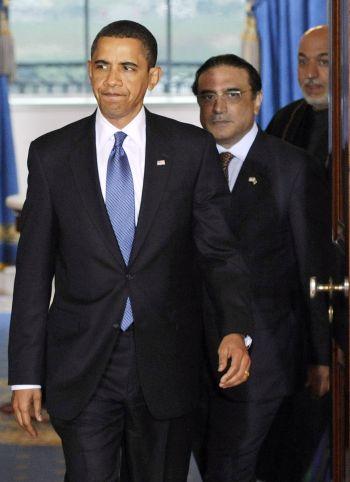 An expert on South Asian affairs has said that the US can pursue, support and encourage Pakistan in its transition from tolerating to fighting the various militant groups on its territory, with the help of four policies.
According to Lisa Curtis, senior research fellow in the Asian Studies Center at The Heritage Foundation, the United States should first continue to support Pakistan with its military operations in the tribal border areas and in developing hold and build strategies that establish government writ in the region and eventually bring reform that incorporates the areas into the larger Pakistani political framework.
Second, the US needs to convince Pakistan that cases against terrorists who attack India should be treated no differently than cases against terrorists who act in other parts of the world. By treating terrorists focused on India with kid gloves, Islamabad has created a permissive environment for terrorists to operate more generally, especially since many of the various terrorist groups share a pan-Islamist ideology and provide each other with tactical cooperation and logistical support.
Third, Washington should work with Pakistani civilian leaders to build a consensus within Pakistan against extremist messages and ideologies that foster terrorism.
According to Curtis, the US can also provide support for interfaith dialogue and activities in Pakistan that promote religious pluralism and empower mainstream religious leaders to actively engage and challenge radical interpretations of the religion of Islam.
And lastly, an essential part of stabilising Afghanistan and Pakistan involves encouraging Indian and Pakistani officials to develop a different security paradigm for the region that is based on regional economic integration and trade.
This new paradigm would allow them to focus on containing dangerous non-state actors that threaten stability in all three countries.
While taking note of President Obama's decision not mediate directly in the Indo-Pakistani dispute, but to make efforts to help both countries feel secure, Curtis says that as far as Pakistan is concerned, the United States has no choice but ensure that it does improve that country's sense of security.
"We often hear about the 'trust deficit' Pakistanis feel toward the United States because of the cut-off of US aid programs to Pakistan in the early 1990s over its pursuit of nuclear weapons. Pakistanis repeatedly voice their view that the United States is a fickle and untrustworthy partner that pursues its own national security interests at the expense of Pakistan," Curtis says in her article for the Heritage Foundation.
"But demonstrating that the lack of trust in the US-Pakistan relationship cuts both ways, Secretary of State Hillary Clinton on her recent visit to the country questioned Pakistani sincerity over its efforts to capture senior Al Qaeda members. While Clinton's statement stood out for its bluntness, other senior US officials have echoed similar sentiments," she adds.
"It has become something of an open secret -- or painful truth -- that Pakistan and the US are working at cross-purposes in Afghanistan. The real question is how long the US-Pakistan partnership can be sustained under the current strain of our divergent goals in Afghanistan, especially as US military deaths rise," she asks.
She concludes that until there's a meeting of the minds on Afghanistan, the US-Pakistan relationship will be plagued by mistrust and suspicion.
Image: US President Obama followed by Pakistani President Zardari and Afghanistan President Karzai at White House in Washington | Photograph: Reuters