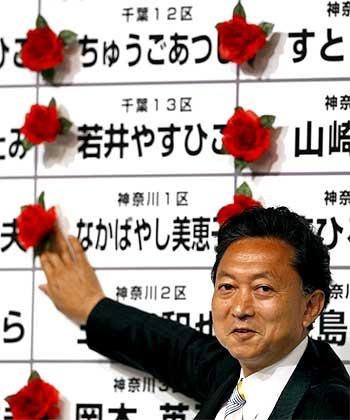 A political change is sweeping across Japan.
The Democratic Party of Japan has won a landslide victory in the elections on Sunday, ending 50 years of almost unbroken rule by the Liberal Democratic Party, the BBC has said.
The Democratic Party's leader Yukio Hatoyama, is in the process of forming a government.
Reports say Hatoyama's party has won 308 seats in the powerful 480-member lower house of parliament in the Sunday poll.
"It is an incredible number," Hatoyama told the media, reacting to the landslide victory.
"We will not just bulldoze our policies. We must exercise patience and seek people's understanding because we are given such latitude," Hatoyama said.
Hatoyama was too quick to list out the priorities. He expressed his wish to resolve decades-old feud with Russia over a over a group of sparsely populated islands.
Another report suggests that Hatoyama is dreaming of an Asian union.