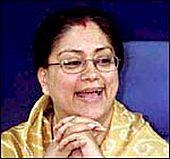 After the expulsion of Jaswant Singh from the Bharatiya Janata Party, former Rajasthan chief minister Vasundhara Raje is likely to soon end her rebellion against the party's directive to quit as leader of the Opposition in the Rajasthan assembly following the party's two successive poll defeats in that state.
Raje is expected to meet party chief Rajnath Singh and L K Advani, leader of the Opposition in the Lok Sabha, in New Delhi on August 22, soon after they return from the ongoing chintan baithak (brainstorming session) in Shimla.

Sources in the party said Raje had agreed to come to Delhi for the meeting.
The BJP's directive was aimed at ending the factionalism and infighting in its state unit, as much as it was to give a reprimand to Raje for her failure to lead the party in the Lok Sabha and assembly elections.
However, a defiant Raje had taken offense to the party's decision and flaunted her support group -- the majority of the Members of Legislative Assembly. MLAs supporting her staged a rally in front of Rajnath Singh in the national capital. However, Advani, in whose camp Raje was believed to be in till recently, snubbed her when he refused to meet her supporters.
Party sources say Raje may relinquish her post before August 24, the day the Rajasthan legislative assembly starts its session.
Earlier, Raje had wanted a month's time to wind up in the state and had also asked for a suitable position in Delhi. "We do not think she would place any demand before the leaders," sources said.
"Jaswant Singh's expulsion has send strong signals across that the party would not tolerate indiscipline anymore."