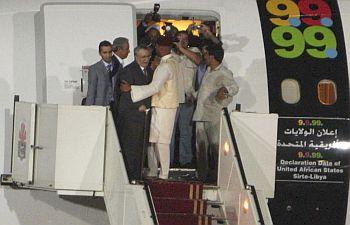 Libyans from all walks of life gave Lockerbie bomber Abdel Basset Ali al-Megrahi a rapturous welcome on his return to his native Libya late Thursday night, even as the survivors and relatives of those killed condemned his release and clamoured for justice.
US President Barack Obama also regretted the British government's decision to release al-Megrahi, while a senior State Department official said that Washington would not block Libyan leader Muammar Gaddafi's visit to the United Nations for next month's General Assembly meeting.
"Leaders are entitled to come to the General Assembly and speak," Assistant Secretary of State PJ Crowley said on Thursday in a telephone interview.
"If Qaddafi wants to come, I expect he'll be able to come," he added.
Crowley, however described al-Megrahi "a terrorist, not a hero," and said "obviously, if he is going to have a sustained hero's welcome, that's going to have an impact" on US-Libyan relations.
"If Libya wants a different relationship with the United States and the rest of the world, it has to act more constructively, rather than celebrating a dark past," Crowley said.
Al-Megrahi, who is said to be dying of prostate cancer, was released from prison yesterday by Scotland. He had been convicted in 2001 for the 1988 killing of 270 people in the bombing of Pan Am Flight 103 over the Scottish town of Lockerbie.
Doctors have estimated that he has less than three months to live. Scottish officials said he was released on grounds of compassion.
US officials have objected to the release. Secretary of State Hillary Clinton had urged Scotland to keep Al-Megrahi in prison, as did seven US senators who wrote to Scottish Justice Secretary Kenneth MacAskill, who approved the release.
"The United States is deeply disappointed by the decision to allow Al-Megrahi to return to Libya. We extend our deepest sympathies to the families who live each day with the loss of their loved ones due to this heinous crime," Clinton said in an e- mailed statement yesterday. 
US Attorney General Eric Holder Jr said: "I am conscious that there are deeply held feelings, and that many will disagree whatever my decision. However, al- Megrahi now faces a sentence imposed by a higher power. It is terminal, final and irrevocable."
Al-Megrahi, a former Libyan intelligence officer, has maintained his innocence in the bombing of the Boeing 747 flying to New York from London on Dec. 21, 1988.
Image: Libyan Abdel Basset al-Megrahi is hugged by Seif al-Islam, the son of Libyan leader Muammar Gaddafi, as he walks down the stairs upon his arrival at airport in Tripoli.
Photograph: Stringer/Reuters