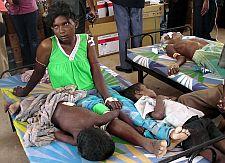 Hoping that Sri Lanka would allow displaced Tamil civilians to return to their homes soon, India has said a "broad-based" political solution to the Tamil question will enable "more effective" utilisation of the Rs 500 crore aid given by it for rebuilding war-ravaged areas.
Indian High Commissioner Alok Prasad said India is looking forward to working with Sri Lanka for quick and "effective disbursement of this assistance to bring genuine relief" and seek to reconstruct lives damaged during the conflict.
"A broad-based political settlement would enable this assistance to be utilised in a more effective and efficient manner," Prasad said in his Independence Day message.
Prime Minister Manmohan Singh had earlier announced a Rs 500 crore aid package for Sri Lanka for rehabilitation and reconstruction of northern Lanka, ravaged by the 30-year-old civil war.
Prasad, in his message, said India has always been committed to the unity, sovereignty and territorial integrity of Sri Lanka.
New Delhi is also committed "to the restoration of lasting peace through a political settlement that meets the just aspirations of all elements of the Sri Lankan society."
"India hopes that the war-affected people would be able to resume their normal life at the earliest and that the displaced will be allowed to return to their homes very soon," Prasad said.
The true quality of friendship was evident during the recent difficult times when India stood steadfast by Sri Lanka's side, Prasad said.
"We will continue to support Sri Lanka's commitment to heal the wounds of the past to build a caring society which ensures a life of equality and dignity to all its citizens," the Indian High Commissioner said.
With the war now over, it was time to work together towards a prosperous future, he said.
Prasad said the Indian medical facility started at Pulmoddai in March and later shifted to Manik Farms in Vavuniya has treated over 25,000 patients over the last six months.
"The hospital has rendered invaluable service to the IDPs. Now that the facility has fulfilled its intended purpose, we are de-inducting our medical team from the end of August," he said.
Prasad said India has requested the Sri Lankan government to take over the remaining medical supplies as well as the physical infrastructure of the hospital created in order to continue to provide medical assistance to the IDPs from next month.
Image: A Tamil woman sits on a bed with her child at Manik Farm in Vavuniya
Photograph: Louis Charbonneau / Reuters