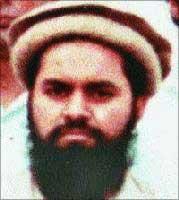 In the wake of China blocking United Nations Security Council's sanctions against Jaish-e-Mohammad chief Masood Azhar, India has provided detailed information to it about his involvement in terror activities, and hopes Beijing would support the move.
The issue figured during the talks between special representatives -- National Security Adviser M K Narayanan and Chinese State Councilor Dai Bingguo – in New Delhi last Friday and Saturday.
"We have shared with China the necessary information and our assessment about Masood Azhar," a source said but refused to specify whether the material was provided during the talks.
"India and China have similar concerns regarding terrorism and we hope China will support the move to proscribe Azhar by the UN Security Council," the source added.
Azhar, founder of JeM,  is one of the three terrorists freed by India in exchange for the hostages of Air India plane IC-814, which was hijacked in December 1999. China has been blocking the effort, arguing that it did not have necessary information about Azhar's involvement in terrorism.
Britain had earlier joined China in blocking the move but agreed to support after India provided the relevant information. India now hopes that China will support the move, particularly in view of the recent unrest in Xinjiang province, whose source is believed to have been in Pakistan.
The UNSC resolution had put a ban on Jamaat-ud-Dawa, declaring it as a front for the LeT, which was held responsible for the Mumbai terror attack. Afterwards, an effort was made to get JuD chief Hafeez Saeed proscribed by the UNSC, but it was blocked by Britain and China, which wanted it to be put on hold.