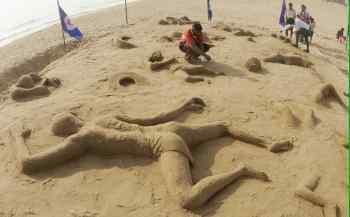 Panic gripped coastal areas of Chennai on Tuesday, especially among fishermen, following reports of a tsunami warning, after a mild tremor was felt here today morning due to a powerful 7.8 magnitude earthquake off the Andaman and Nicobar Islands.
Soon after the rumours spread about a tsunami warning, most fishermen in coastal areas moved out of their houses to safer places. They also did not venture out to the sea for a while. However, once it was ascertained that no Tsunami warning had been issued, the fishermen heaved a sigh of relief.
The Indian Meteorological Department in Chennai said the tremors in the city were triggered by the high intensity earthquake in the Indian Ocean at 1.26 am, about 270 km north of Port Blair in Andaman Islands.
Sources said the department was flooded with calls from anxious residents who wanted to know if a quake had struck the city. Tremors were felt at several areas in the city, including Harbour area, Anna Nagar, Mylapore, Besant Nagar and Nungambakkam.
Fire Department sources said no casualty or damage was reported in any part of the city.
Image: A file photograph of artists spraying water on sand sculptures made to mark the fourth anniversary of the tsunami at Marina beach in Chennai on December 26, 2008
Photograph: Reuters