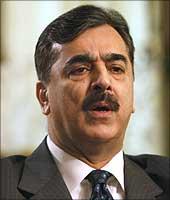 Pakistan Prime Minister Yousuf Raza Gilani and army chief General Ashfaq Parvez Kayani on Monday made an unannounced visit to the restive Swat valley where troops are engaged in flushing out Taliban militants.
A top-level review of the security situation and the repatriation of the displaced people, uprooted by insurgency, was the highlight of the visit, TV channels quoted officials as saying.
This was Gilani's first visit to the region since he called in the army in early May to eliminate the Taliban after a peace deal with them in Swat fell through.
The visit also assumes significance with reports of the army being on the verge of wrapping up the intensive operation. Gilani was accompanied on the tour by Punjab Chief Minister Shahbaz Sharief.
Gilani was received in Mingora, the main city in Swat district, by North West Frontier Province Chief Minister Amir Haider Khan Hoti and Governor Owais Ghani. Shortly after his arrival, Gilani chaired a meeting, during which he was briefed on the security situation and the repatriation of thousands of displaced people by army officials.
The premier also visited a girls' school at Saidu Sharief, a city where the military has a sizeable presence. The Taliban, which claimed educating girls was 'un-Islamic', had burnt or blown up nearly 200 girls' schools across Swat.
Later, the prime minister addressed a public gathering.