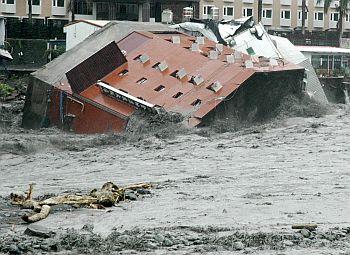 A child was killed when Typhoon Morakot slammed into southeast coast of China on Sunday where one million people have been evacuated, even as three fishermen were confirmed dead and 26 others missing when tropical storm Goni battered southern Hainan province.
A four-year-old boy was killed as Typhoon Morakot, packing winds up to 118.8 kilometres per hour in its eye, made landfall in the coastal areas of Beibi Town in Fujian province, the local meteorological bureau said.
Authorities have relocated 490,000 residents of the coastal province of Zhejiang while more than 505,000 people were evacuated from Fujian province.
In Fuzhou, capital of Fujian, 34 domestic flights were cancelled and 20 delayed because of unfavorable weather. The city also suspended most passenger bus services.
In Zhejiang, 155 passenger ships were cancelled and over 7,400 vessels were called back from the sea as the maritime authority raised the typhoon alarm to its highest level.
The front of the eighth typhoon of the year had previously triggered continuous downpours and strong winds in Fujian and its neighbouring Zhejiang Province before its landing, which forced the evacuation of nearly one million people to safety, Xinhua news agency reported.
Meanwhile, three fishermen were confirmed dead and another 26 missing in more than ten maritime disasters caused by tropical storm Goni in south Chinese island province of Hainan, local officials said on Sunday.
Two fishermen were killed and another three missing when their fishing boat capsized at the Yangpu Port. One fisherman died and another was missing after a second boat sank in the sea near Danzhou City, an official of the Hainan provincial government said.
Four crew members on a Cambodian vessel were still missing off Dongfang City. Eleven fishermen lost contact with the control centre after encountering Goni on Friday at the Beibu Bay in the south of Guangxi Province.

Besides the 19 missing, another seven crew members on a freighter were missing at Qiongzhou Strait, said an official with the Hainan marine search and rescue centre.
Authorities have deployed over 100 vessels and helicopters to locate the missing crewmen, he said.

Image: A collapsed hotel building is seen in floods after Typhoon Morakot hit Taitung county in eastern Taiwan.
Photograph: Stringer/Reuters