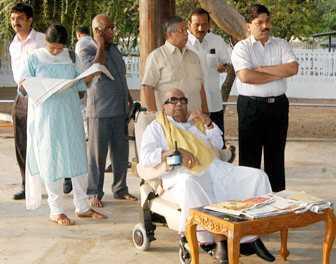 Tamil Nadu is on the verge of boiling over after its Chief Minister M Karunanidhi went on a surprise indefinite fast on Monday over the Liberation Tigers of Tamil Eelam was cornered by the Sri Lankan army. All the Dravida Munnetra Kazhagam Lok Sabha candidates and leaders are said to be converging at the respective bases and following suit. Huge traffic jams are being reported across major towns and cities in Tamil Nadu.      
Soon after the chief minister went on a fast, Prime Minister Manmohan Singh spoke to Karunanidhi. Union Minister G K Vasan, who was at the fast site, told reporters that the prime minister spoke to the DMK chief over phone.
"The United Progressive Alliance is pressing for a ceasefire in Sri Lanka, we are trying our best," Vasan said without elaborating.
Karunanidhi went on a fast suddenly this morning, stating that it was his "sacrifice on behalf of all Tamils."
Karunanidhi launches fast
Accused by rivals of failing to ensure a ceasefire in Sri Lanka, Karunanidhi went on a sudden fast declaring that he was ready to be "yet another victim" of violence in the island nation.
The 84-year-old chief minister drove to the memorial of the late C N Annadurai in Chennai early this morning and sat on a fast there demanding an immediate ceasefire in the Sri Lankan army's offensive against the LTTE.
"Let me be one of Rajapaksa's (Sri Lankan President's) victims," he told reporters at the fast site.
"This is my sacrifice on behalf of all Tamils," said Karunanidhi, who recently underwent a major surgery for his back pain.
Sitting on a wheelchair, Karunanidhi said he did not want DMK men to go on a fast. "It is my decision and I do not want others to join," he said even as a host of DMK leaders, including his daughter Kanimozhi and his grand nephew Kalanidhi Maran, rushed to the spot to see him. 
Our Correspondent adds from New Delhi:
Soon after Dr Singh spoke to Karunanidhi, the Centre has speeded up it efforts to urge Sri Lanka to end hostilities towards minority Tamils. The Cabinet Committee on Security is likely to meet later today in New Delhi, to discuss the developing situation in Sri Lanka.
Pranab Mukherjee and AK Antony have been discussing this with their officials over phone, busy as they are in electioneering. Hence they may not arrive before noon in Delhi. Doctors attending on Chief Minister Karunanidhi have expressed concerns over the health of the 84-year-old politician.
Doctors want him be shifted to a private hospital in Chennai, but he has not paid heed yet.
"It is a political issue, let me die at the hands of President Rajapaksa," the chief minister told TV channels.
Image: Karunanidhi on fast on a wheelchair. Also seen are his daughter Kanimozhi (on the left) and Dayanidhi Maran (extreme right).