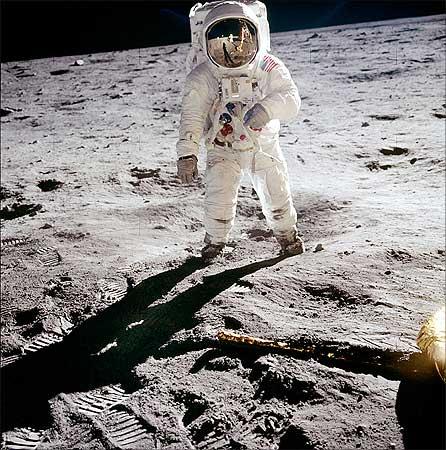 It was a small step for man, a giant leap for Mankind -- and it happened 40 years ago on July 21, 1969.
Where were you when Neil Armstrong took that small step and Mankind, with one giant stride, straddled the realm of space?
History is both perceived and immediate. There is the history we read about in dull classroom texts, and the history we live and experience even in the midst of the mundane ticks of everyday time.
The Moon Landing was one such -- for so many of us struggling through the minutiae of routine existence, it was a moment to pause, to admire, to absorb the knowledge that the human race had conquered the final frontier.
History is like that -- it happens even as we deal with the routine business of existing.
So where were you then? What were you doing when Neil Armstrong and Edwin 'Buzz' Aldrin touched down on the Sea of Tranquility abroad the lunar module Eagle? How did you hear about it, and what did you think when you first heard that man now owned the moon?
Relive history. Be part of Rediff.com's special project to recreate the thoughts, the emotions, the exuberance of that moment in time. Write in.
Photograph: Kind courtesy NASA