Will back women's quota bill even without SC/ST/OBC provision: Maya
September 19, 2023 19:37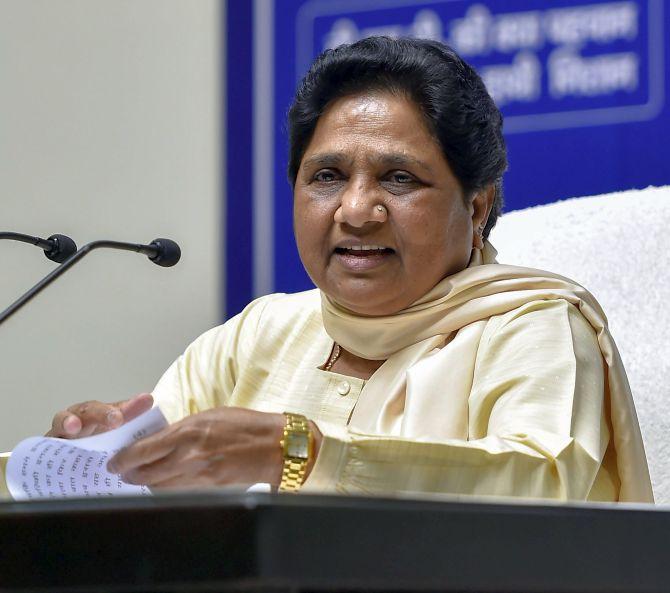 Maywati
BSP supremo Mayawati on Tuesday said her party will support any bill that allows reservation for women in Parliament and other legislatures, even if the party's demand for a quota for the SC, ST and OBC within that quota is not met.
Her remarks to the media came on a day the government introduced a constitutional amendment bill to reserve one-third of seats in the Lok Sabha and state assemblies for women, reviving a bill pending for 27 years for want of consensus among parties.
The Dalit leader said her party will welcome a bill even if it provides 50 per cent reservation for women, and the government should consider this.
"We believe that after discussion the women reservation bill will be passed this time which had been pending since long," Mayawati said.
The Bahujan Samaj Party leader said her party wanted women from the Scheduled Caste, Scheduled Tribe and Other Backward Classes to get a separate quota in the draft legislation.
Making a strong push for a quota within the quota, she said women from the SC, ST and OBC will not get proper representation if this is not done.
"There is a talk that they should be given quota in the reservation that SC/ST are already getting in Lok Sabha and Assembly but our party is not in favour of this," she said.
"Women of these sections should get reservation in the 33 per cent quota that is being given now, otherwise there will be a lot of injustice to these classes," she said, alleging that the casteist parties from the beginning do not want to see these classes progressing in any field.
Attacking the Bharatiya Janata Party (BJP) and Congress, the BSP chief said, "If separate reservation arrangements are not made for women of these categories in the women's reservation bill, our party will assume that in this matter also the casteist mentality of the BJP and Congress party has not changed yet."
Emphasising on transparency, Mayawati said, "Whatever criteria is set to determine their seats in this bill, there should not be any kind of politics in it. There should be a complete transparency and this bill should also be implemented."
But, she made it clear that the BSP will support the bill even if her party's demand is not met.
"Even if our demands on the women's reservation bill are not implemented, our party will support the bill and will fully help get it passed in Parliament.
"There has been a lot of talk in the country about the safety, respect and necessary improvement in the condition of women of all sections of society, but instead of working on it with honesty and clear intentions, they are completely ignored," she said.
Mayawati alleged that a game is going on to make the reservation for SC, ST and OBC communities inactive and ineffective which has been provided as the humanitarian and welfare objectives of the Constitution.
« Back to LIVE
TOP STORIES