Youth Cong workers assaulted as they show black flags to Kerala CM
November 21, 2023 01:02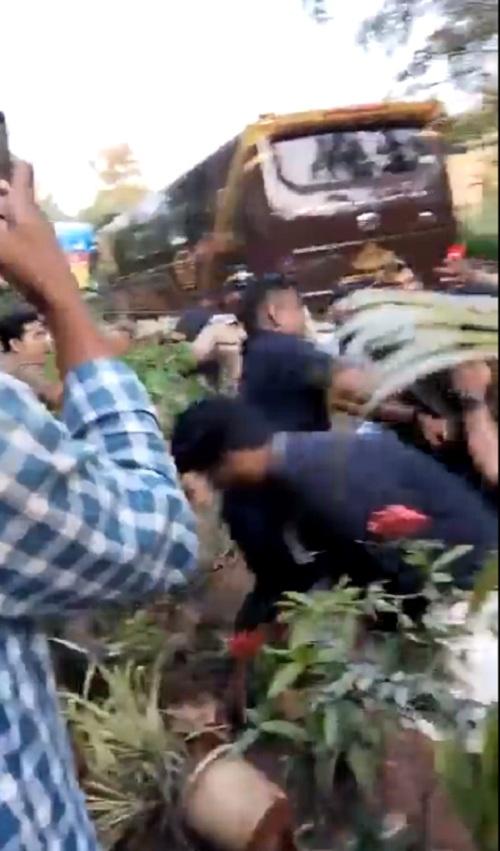 Youth Congress workers showing black flag to CM Vijayan in Kerala/Courtesy IYC on X
A group of Youth Congress workers were arrested on Monday for allegedly waving black flags at and jumping in front of the cavalcade of Kerala Chief Minister Pinarayi Vijayan, following which they were reportedly attacked by CPI-M workers using helmets, sticks, and stones.
Vijayan and his cabinet were travelling through Pazhayangadi area of this north Kerala district as part of the Nava Kerala Sadas, an outreach programme of the state government, when the Youth Congress members demonstrated.
After the incident, Vijayan, while addressing a massive gathering at Taliparamba in Kannur, claimed that those who jumped in front of his cavalcade had received specific instructions and had an agenda.
He said the Congress will not be able to "belittle the success" of the event by waving a black flag.
He also told the gathering to expect more "dubious" plans of provocation in the coming days and appealed to his party workers to maintain restraint.
"They very well know that showing a black flag will not belittle the success of this event. They want to create an issue and I request everyone here not to get provoked by such incidents. They want to divert attention from this massive outreach programme," Vijayan said.
"This event started just two days back. We have more than 30 days to go. We can expect more of such dubious actions creating provocations. I urge everyone to maintain restraint," Vijayan said.
The CPI-M state secretariat also echoed similar views in a statement and said the Congress party was trying to disrupt the Nava Kerala Sadas by creating trouble. -- PTI
« Back to LIVE
TOP STORIES