Tunnel worker's emotional message: I'm fine, ma
November 21, 2023 15:52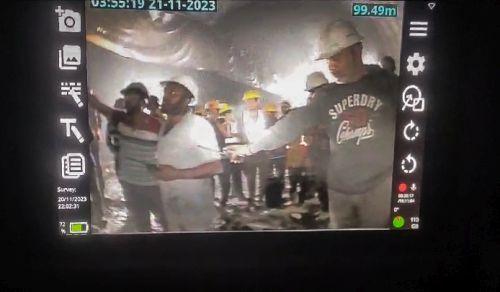 The endoscopic camera reveals the workers for the first time
The workers trapped in the Silkyara tunnel at Uttarkashi received some amount of relief as some of the workers spoke to their relatives for the first time after being stuck in the tunnel for 10 days.
In a major breakthrough in the ongoing Silkyara tunnel collapse rescue team officials successfully developed communication with the trapped workers through the 6-inch pipeline on Tuesday morning.
One of the trapped workers, Jaidev, while speaking to the supervisor at the tunnel collapse site, said in Bangla, "Please record, I will tell something to my maa. Ma, tension korona aami thik achi. Time a kheye nebe. Babakeo time a kheye nite bolbe (Mother, do not worry about me, I am fine. Please you and father eat your meals on time)."
The supervisor could be heard asking those trapped inside the tunnel to not worry and that they would be evacuated soon. The supervisor asked the worker whether he wanted to tell anything to his parents as the voice recording would be relayed to his parents back home.
Some of the other trapped workers also established contact with their relatives, and despite being trapped in the tunnel for 10 days now, they displayed an unexceptional level of patience and courage as they asked their relatives to not worry about them. -- ANI
« Back to LIVE
TOP STORIES