'PM shouldn't have entered India dressing room'
November 21, 2023 14:39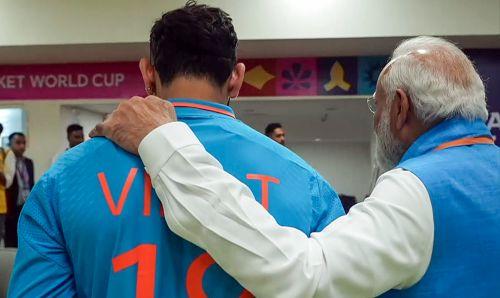 Former cricketer and now TMC MP Kirti Azad lashes out at PM Narendra Modi for visiting Team India in the dressing room.
Kirti Azad tweeted to say, "The dressing room is the sanctum sanctorum of any team. @ICC does not allow anybody to enter these rooms apart from the players and the support staff. PM of India should have met the team outside the dressing room in the private visitors area. I say this as a #sportsman and not #politician.
"Would @narendramodi allow his supporters to come and console or congratulate him in his bedroom, dressing room or the toilet? #Sportspersons are far more disciplined than #politicians. #Panauti #INDvsAUSfinal
"Last, but not the least, the man and whose team did it for India, In 1983 @therealkapildev was also not invited. Now tell me who is doing politics?"
Following Team India's heartbreaking loss at the ODI World Cup 2023 final against Australia on Sunday, Prime Minister Narendra Modi cheered up the 'Men in Blue'.
In a video shared by the Prime Minister's Office, PM Modi is seen motivating Rohit Sharma's side and said that the country is with them. He also said that they had worked hard in the tournament.
"You people have won 10 consecutive games. This one loss is normal, it keeps on happening. Please smile, the entire country is watching you. I just thought that I should go and meet you people," PM Modi said inside India's dressing room.
Meanwhile, former India captain Kapil Dev revealed that he was not invited to the World Cup final between India and Australia. He expressed his disappointment at not being included and stated that he wanted the entire 1983 World Cup-winning team to be present.
« Back to LIVE
TOP STORIES