Black clothes after black deeds: Thakur on Cong
March 27, 2023 14:48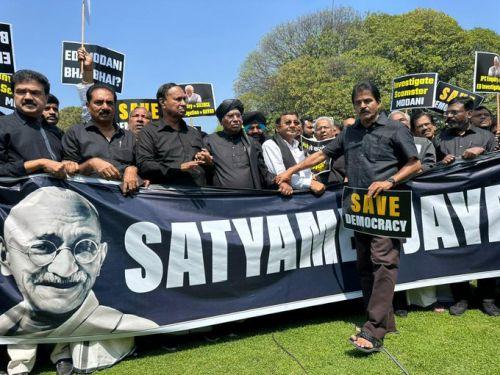 Union Minister Anurag Thakur on Monday lashed out at the Congress' "drama" over Rahul Gandhi's disqualification from Lok Sabha and questioned whether leaders of the Opposition party will "continue to wearing black clothes after their black deeds".
Thakur also took a jibe at Rahul Gandhi claiming that that he was not ready to accept the verdict by Surat court which convicted him in a 2019 defamation case on his 'Modi surname' remark.
Dressed in black clothes, members of Opposition parties earlier today marched from Parliament complex towards Vijay Chowk in protest against the Centre's inaction over the Adani issue.
"Rahul Gandhi and Congress have been insulting the OBC community. Has the Congress party stopped believing in the courts? Rahul Gandhi's arrogance is such that he did not apologise to the OBC community, or in the court. He is not ready to accept the court's judgment. The order was of the court. His membership ended soon after the court delivered its verdict. Why are they creating this drama now?" Thakur said.
"They are not letting the Parliament session run for one man who goes abroad and insults India. And when he returns, the Parliament cannot run if he does not speak. Will the Congress party keep on insulting the OBC community like this? Will Congress keep wearing black clothes after doing black deeds? Will the party now resort to black magic to save itself?" the union minister.
Asked about assertions by Rahul Gandhi that he would never express any regret for criticising the BJP-led government, Thakur stated that the Congress leader can never be Veer Savarkar even in his "best dreams" as it as it required strong determination and love for the country. Gandhi had recently in a press conference stated "My name is not Savarkar, it is Gandhi and Gandhi never offers an apology".
« Back to LIVE
TOP STORIES