50% compensation give to Morbi victims: Oreva
March 27, 2023 16:26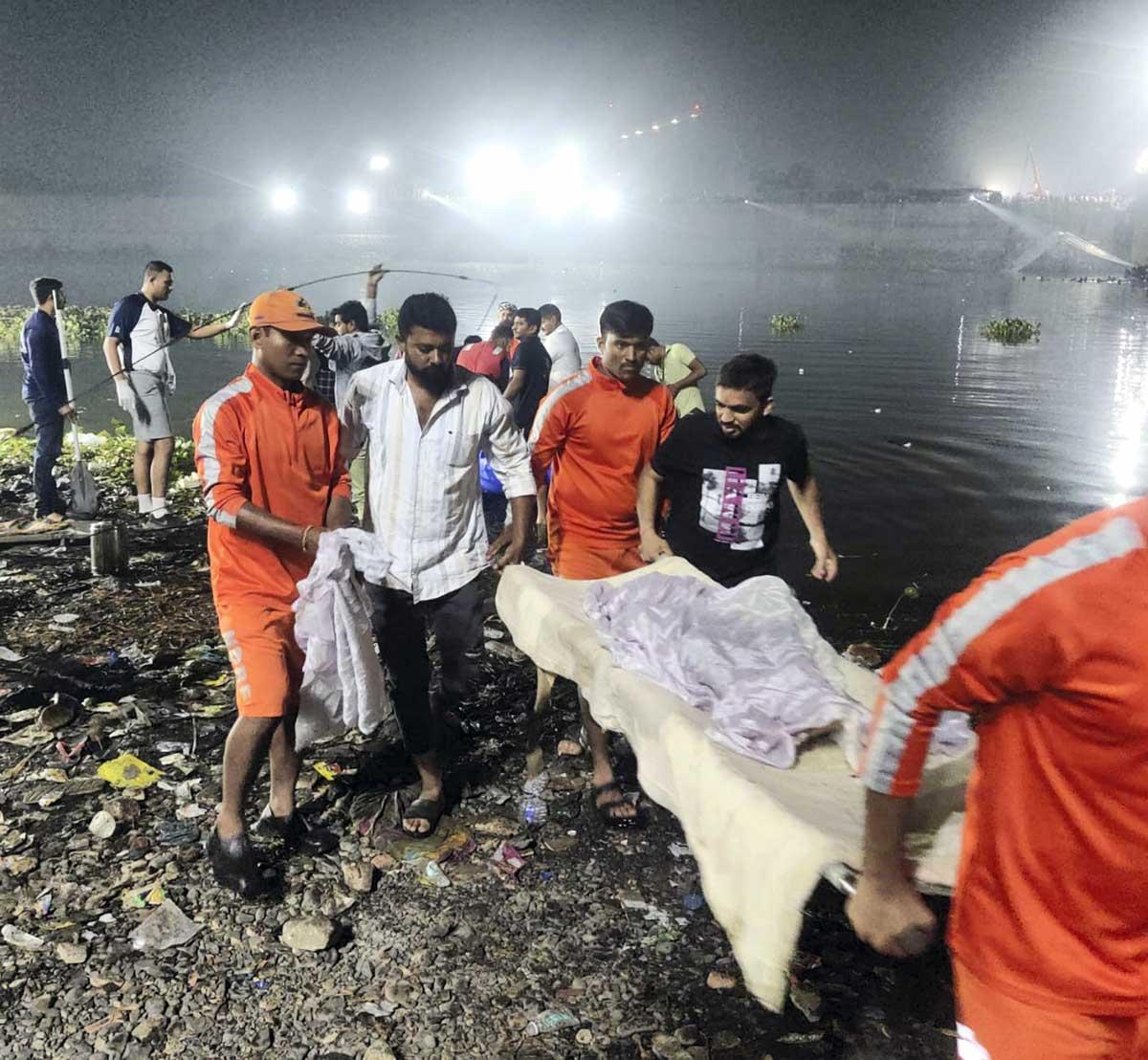 Oreva Group has deposited 50 per cent of the interim compensation amount for the victims of the Morbi cable bridge collapse tragedy, the Gujarat High Court was told on Monday.
The company told the division bench of acting Chief Justice A J Desai and Justice Biren Vaishnav that the first instalment (50 per cent of the total amount) was deposited on March 14, and the rest would be paid on or before April 11. Oreva Group (Ajanta Manufacturing Pvt. Ltd) was responsible for the operation and maintenance of the British-era bridge on the Machchhu river in Morbi that collapsed on October 30, 2022, killing 135 people and leaving 56 others seriously injured.
The high court is hearing a suo motu (on its own) Public Interest Litigation (PIL) on the tragedy. On Monday, the HC took on record the affidavit of Oreva Group and granted the company time it had sought to deposit the remaining amount.
The bench kept the matter for further hearing on April 18. During an earlier hearing, the HC had directed the company, whose Managing Director Jaysukh Patel has been named the main accused in the bridge collapse case and is currently in judicial custody, to double the amount of interim compensation it had proposed to pay to the kin of the deceased and injured.
The company had proposed to pay Rs 5 lakh to the kin of each of the 135 deceased and Rs 1 lakh to the injured as interim compensation. However, the HC on February 22 directed the company to double the amount to Rs 10 lakh and Rs 2 lakh, respectively, citing the Supreme Court judgments. The high court had also said half of the amount deposited by Oreva Group shall be made available to claimants straightaway in their bank accounts, whereas the balance amount shall be invested in a cumulative Fixed Deposit in a nationalized bank to be made available for distribution for five years consistently with the final decision of this court.
It had directed the company to deposit Rs 5 lakh for the kin of each of the deceased and Rs 1 lakh for the injured within four weeks, while the additional amount has to be paid after four more weeks.
The state government had paid Rs 8 lakh compensation and the Central government Rs 2 lakh to each deceased, while the injured received Rs 2 lakh each. -- PTI
« Back to LIVE
TOP STORIES