SC to hear woman's plea against provision in Sharia law
March 18, 2023 00:03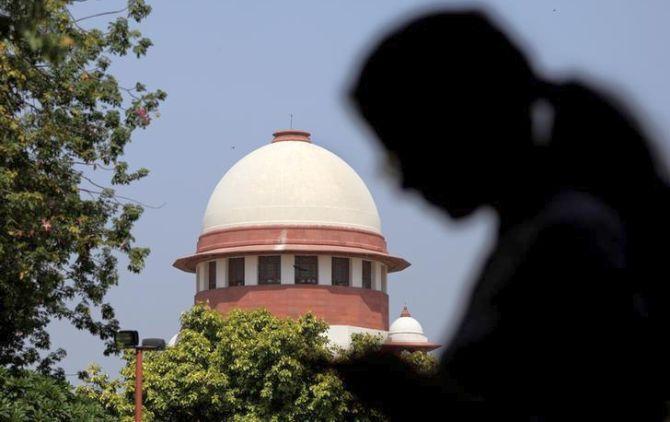 The Supreme Court on Friday agreed to hear a plea filed by a Muslim woman who claimed the provision of Shariat law to the extent of not giving equal share to a female compared to a male is 'discriminatory' and violative of the rights guaranteed under the Constitution.
A bench of justices Krishna Murari and Sanjay Karol was hearing the appeal against the Kerala high court's January 6 order filed by Bushara Ali, who claimed that it is her grievance that being a daughter, according to Shariat Law, she was only allotted half the shares as of her male counterparts.
The bench issued notice to petitioner's 11 siblings which include four sisters.
The plea, filed through advocate Bijo Mathew Joy, said Bushara is a decree holder in a partition suit whereby according to preliminary decree dated January 19, 1995, she was allotted 7/152 shares of the scheduled property having 1.44 acres each.
Joy said that a status quo has also been ordered by the apex court.
The plea filed by Bushara said, 'Petitioner is aggrieved by the final decree passed by the trial court wherein the petitioner was only allotted 4.82 cents of property marked as plot D of advocate commissioner's plan.'
Bushara said her father died intestate leaving behind his wife, seven sons and five daughters.
She said in her plea, 'It is the grievance of the petitioner that in spite of guarantee of the Constitution, Muslim women are subjected to discrimination. Even though the preliminary decree dated January 19, 1995 was not challenged and had become final, petitioner begs to submit that the partition of the property as per Shariat Law is discriminatory and same needs to be set aside. The Section 2 of the Muslim Personal Law (Shariat) Application Act, 1937, to the extent of not giving equal share to a female compared to a male is violative of Article 15 of the Constitution and therefore void as per Article 13 of Constitution.'
The petition said that a similar issue is pending consideration before the court.
Referring to the 2017 verdict in triple talaq case, she said the 1937 Act is a pre-constitutional legislation which would fall directly within Article 13(1) of Constitution.
Article 13(1) states 'all laws in force in the territory of India immediately before the commencement of this Constitution, in so far as they are inconsistent with the provisions of this Part, shall, to the extent of such inconsistency, be void'.
Bushara said she raised the objections against the advocate commissioner's report and plan dated 2022 before the trial court but it was dismissed and the advocate commissioner's plan was accepted and based on that, the property having an extent of 4.82 cents was allotted to petitioner.
'The High Court in First Appeal, without even looking into the records and without considering my aforesaid objections to the Commission report erroneously dismissed the appeal,' she said.
Bushara sought interim order from the apex court restraining her siblings from alienating 80.44 cents of scheduled property as per advocate commissioner's report dated July 25, 2022. -- PTI

« Back to LIVE
TOP STORIES