Normal monsoon likely in 'warmer' July: IMD
June 30, 2023 22:01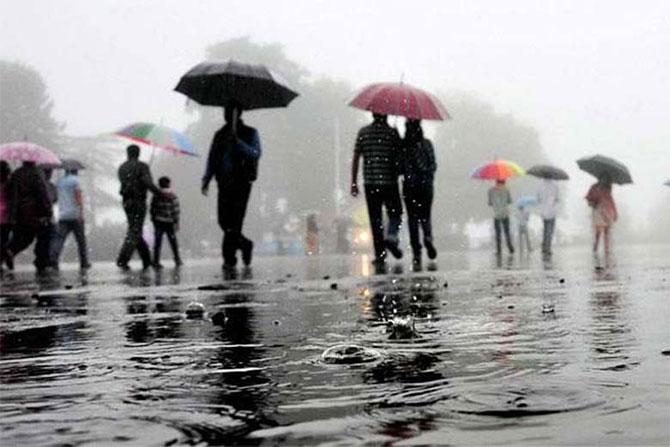 The monsoon is likely to be normal in July across the country, barring parts of eastern Uttar Pradesh and south Bihar, with above normal temperatures expected throughout the month, the India Meteorological Department (IMD) said on Friday.
Addressing a virtual press conference in New Delhi, IMD Director General Mrutyunjay Mohapatra said the July rains will help wipe out rainfall deficiencies witnessed in June.
As many as 16 states and union territories received deficient rainfall in June, with Bihar and Kerala reporting large deficits at 69 per cent and 60 per cent below normal respectively.
Large states such as Uttar Pradesh, Maharashtra, Karnataka, Jharkhand, Andhra Pradesh and Telangana also received less rainfall than what is normal for June, the first month of the south-west monsoon season.
"The monthly rainfall averaged over the country as a whole during July 2023 is most likely to be normal (94 to 106 per cent of LPA) and most probably within the positive side of the normal," Mohapatra said.
The long period average (LPA) of rainfall over the country during July based on the data of 1971-2020 is about 280.4 mm.
The phenomenon of warming of the equatorial Pacific Ocean, called the El Nino conditions, are expected to develop in July.
El Nino is known to suppress monsoon rainfall.
Mohapatra said during most of the recent El Nino years, June rainfall has been within the normal range.
"In 16 of the 25 years when June rainfall was below normal, July rainfall has been reported normal," he said.
He said 377 weather stations across the country reported heavy rainfall events - 115.6 mm-204.5 mm per day - in June, while 62 stations reported extremely heavy rains, amounting to more than 204.5 mm.
Mohapatra said the March-to-June summer season saw heatwave conditions across 281 meteorological sub-division days (MSD), the third highest after 578 MSDs in 2010 and 455 MSDs in 2022.
If one meteorological sub-division reports heat wave conditions, it is considered as one MSD. The weather office said during July, normal to above normal maximum temperatures were likely over most parts of the country except some areas of northwest and peninsular India.
It said normal to above normal minimum temperatures were likely over most parts of the country except some areas of northwest India. -- PTI
« Back to LIVE
TOP STORIES