Rahul's yatra cancelled today due to bad weather
January 25, 2023 12:38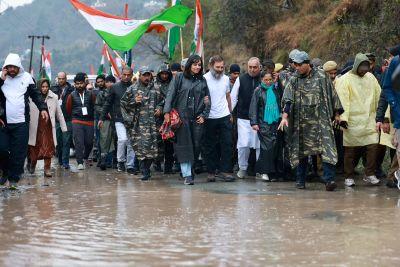 Bad weather and landslides on Wednesday led to the cancellation of the second leg of Rahul Gandhi's Bharat Jodo Yatra that was scheduled to start this afternoon in the nearby highway town of Banihal.
Amid incessant rains, Gandhi resumed the march from Ramban on Wednesday morning but inclement weather forced its suspension.
The march will now resume on Friday as tomorrow is a rest day.
The journey from Ramban to Banihal along the 270-km Jammu-Srinagar national highway -- the only all-weather road linking Kashmir with the rest of the country -- is the most challenging due to several problematic stretches, including Panthiyal, Mehar and Magerkote which are prone to shooting of stones from the hillocks overlooking the arterial road.
Traffic on the highway was suspended Wednesday morning after heavy rains triggered shooting of stones at a few places in Ramban district that left a truck driver dead and two others injured.
"Due to poor weather conditions and landslides in the area, the afternoon leg of#Bharat Jodo Yatra in Ramban & Banihal has been cancelled. Tomorrow is a rest day and the Yatra will resume day after, January 27th at 8 am, Congress General Secretary and in-charge communication Jairam Ramesh tweeted.
« Back to LIVE
TOP STORIES