India's trade with China risen by 50% despite aggression: Kejriwal
January 25, 2023 16:26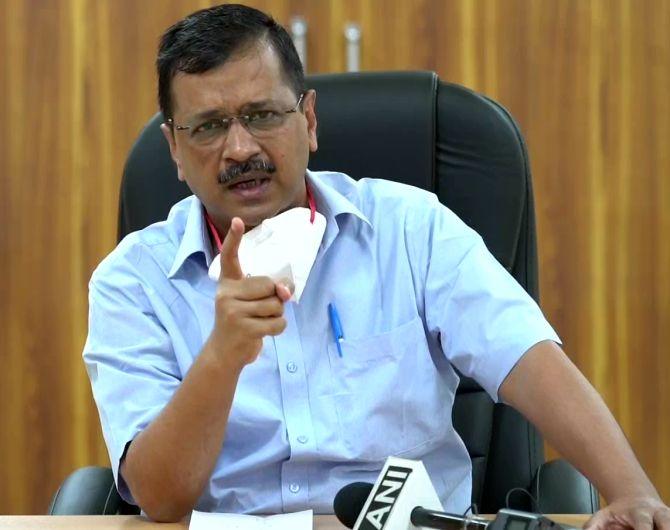 Despite Chinese aggression, India's trade with Beijing has increased by 50 per cent, Delhi Chief Minister Arvind Kejriwal said in an apparent swipe at the BJP-led Centre, and called for a boycott of China to send out a strong message.
Addressing a Republic Day function organised by the Delhi government at Chhatrasal Stadium, Kejriwal alleged that China is procuring more weapons to use against India with the very money it earns doing trade with us.
"A leading newspaper today reported that China has occupied some of our land. This is worrisome for every Indian. Our soldiers are bravely facing China at the border and it is our duty to support them in this fight.
"It is our duty to boycott China and send out a strong message," he said at the event.
The Chief Minister asked the central government what action it took against China's incursions into Indian territory and allegedly even occupying some of our land.
"On one hand China is occupying our land and on the other hand we are increasing our trade with China," he said, as he went on to list the items both countries traded in for billions of dollars.
"In 2020, we bought materials and products worth 65 billion dollars from China and in 2021 it increased to 95 billion dollars -- almost a 50 per cent increase. We are only making China richer and giving them more money. They are buying more weapons, recruiting more soldiers using our money to harm us," Kejriwal said.
The Aam Aadmi Party leader suggested India should set up manufacturing units for items it imports from China and boycott Chinese goods.
"We are purchasing items like slippers, figurines, and mattresses from China. Why cannot we manufacture these in India?" he asked, saying that the move will only create jobs for youths.
"If the Centre and state governments will provide all facilities to the businessmen, we can make all these things in India and give employment to lakhs of youths.
"But the country's system and agencies have forced the traders to an extent that in the last five years 12 lakh traders have left the country," he rued. -- PTI
« Back to LIVE
TOP STORIES