Farewell, dear Sherna, and thank you
April 28, 2023 14:47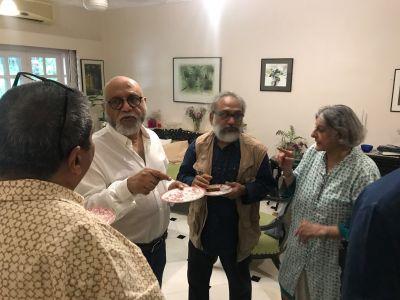 How does one describe Sherna Gandhy, editor like none other?
Because, apart from ruling copy desks with a firm but gentle hand in leading publications ranging from The Illustrated Weekly of India to the Sunday Observer to The Times Of India, there was so much more to her.
But above everything, what stays in one's mind is her infectious laughter, her joie de vivre. Which didn't flag even as she spent the last years of her life battling cancer, before the insidious disease claimed her earlier today. She had turned 70 on April 16.
At an interaction with her former colleagues at her home, each of who carries a favourite Sherna story, she quietly steered the conversation away from dwelling on her disease, even as her darling mom ensured that a table full of eats was never depleted.
It was as if the years had slipped away, and each of us was back at our tables at the Weekly, that monumental publication the likes of which India has not seen since.
And Sherna was among those who made the Weekly what it was.
To say that she will be missed, sounds trite.
For many who learnt the basics of good editing from her and struggle to reach the high standards she kept and expected of her wards, it's a silent tribute to her every time a copy is opened for editing.
In the picture: Pritish Nandy, legendary editor of The Illustrated Weekly of India, Palashranjan Bhaumick, ace photographer who illuminated the Weekly's pages with his magical images, and Sherna Gandhy at her home.
« Back to LIVE
TOP STORIES