Tibetans ask BBC for genuine coverage on Dalai Lama
April 18, 2023 09:05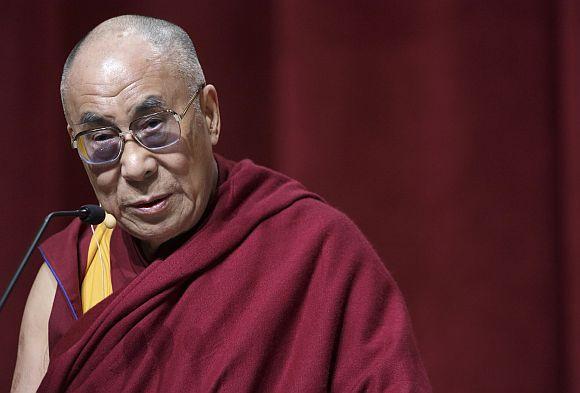 Amid the controversy over Tibetan spiritual leader the Dalai Lama's purported viral video, the British Tibetans have condemned China and its agents for attempting to purposefully tarnish the Tibetan spiritual leader's reputation and have also appealed to the BBC to provide "genuine coverage."
The leaders of the group, Founder and Chair of Global Alliance for Tibet and Persecuted Minorities, Tsering Passang, Dalha Tsering (Tibetan Community UK-Chairman 2018-2020) and Phuntsok Norbu (Tibetan Community UK - Vice Chairman, 2018 - 2020), penned a Joint Letter to the BBC over the coverage the British broadcaster gave to Dalai Lama, over his viral video.
The Tibetan community also organised a gathering outside the BBC building, which is not so far from the Chinese Embassy. Phuntsok Norbu, Tibetan Community UK - Vice Chairman, 2018 - 2020, spoke on the significance of this immediate gathering.
Larter, Tsering Passang read out the trio's joint letter to the BBC and a recent Statement issued by a group of Tibetan leaders and activists from around the world. A group of former leaders of the Tibetan Community in Britain to the BBC's Portfolio Head of Audiences, Digital on April 16, in the joint letter, stated, "As a world-class public-funded media broadcasting house, we were deeply dismayed that the BBC would give so much heed to a few seconds of ill-intentioned "doctored" viral footage, clearly masterminded by CCP agents with the object of defaming our spiritual leader His Holiness the Dalai Lama."
They added, "We are writing to draw your kind attention that the Tibetan Community has been deeply hurt by the BBC's recent coverage vis-a-vis His Holiness the Dalai Lama and his genuine compassionate greeting and interaction with an Indian student."
« Back to LIVE
TOP STORIES