NCW notice to IAS officer on condom taunt to girl
September 29, 2022 13:09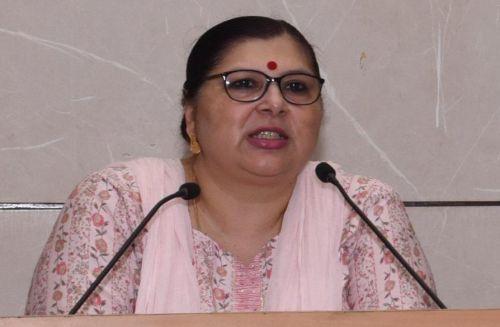 IAS officer Harjot Kaur Bhamra also asked the girl to go to Pakistan
The National Commission for Women (NCW) has sought explanation from a senior IAS officer over her "inappropriate and highly objectionable" remark to a student who asked about affordable sanitary napkins.
According to media reports, when the girl student from Bihar asked why the government could not provide sanitary pads, Harjot Kaur Bhamra responded, "Tomorrow, you attain the age of family planning and you would expect the government to provide 'nirodh' (condoms) too."
"The government provides a lot of freebies. Cant they offer us sanitary pads that cost Rs 20-30?" the student asked.
To this question, IAS officer Harjot Kaur said, Is there any end to the demands? Youll say tomorrow that the government can provide jeans and nice shoes. Eventually, when it comes to family planning, youll want free condoms as well.
When the girl said that the votes of the people determine who rules, the officer replied, This is the height of stupidity. Then do not vote. Pakistan, Ban Jao (become like Pakistan). Do you vote for money and facilities?
To that barb, the student responded, I am an Indian. Why should I?
The NCW said it had observed that such "insensitive attitude" from a person at a responsible position was condemnable and extremely shameful. "NCW has taken cognizance of the matter. Chairperson Rekha Sharma has written to Harjot Kaur Bhamra, IAS, seeking explanation over her inappropriate and highly objectionable remarks," the women's panel said in a statement. PTI
« Back to LIVE
TOP STORIES