India-US relationship not narrowed to gains: EAM
September 29, 2022 08:43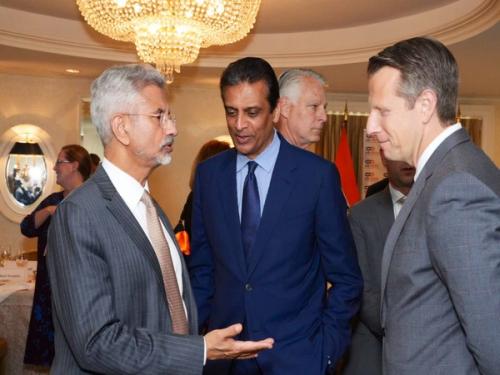 India and the United States, the world's two largest democracies, do not share a narrow relationship only devoted to bilateral gains, but the one that impacts the rest of the world, External Affairs Minister S Jaishankar has said.
He said both countries have recognised that this is a relationship of great capability and potential and there is still a lot of room for it to grow.
"If you look at the India-US relationship, it's not a narrow relationship only devoted to each other's gains. Our relationship today impacts the rest of the world, definitely does the Indo-Pacific," Jaishankar told a group of Indian reporters on Wednesday as he concluded his four-day official trip to the American capital.
Starting with an interaction with the diaspora on Sunday, Jaishankar over the next four days met his American counterpart Secretary of State Antony Blinken, Defense Secretary Lloyd Austin, Commerce Secretary Gina Raimondo, National Security Advisor, Jake Sullivan: and five lawmakers including Senator Mark Warner and Congressman Ami Bera. Jaishankar also had meetings with the American business community.
He described his visit as a very comfortable one during which he had good conversations.
"There are a lot of countries who look to us individually or bilaterally, some part of the betterment, which they hope for, the solutions which the world is searching for, in many respects," he said.
"Bilateral, a very solid, positive, productive bilateral conversation, but framed in the context of larger global challenges. There's a high degree of convergence on how we look at those challenges, we may articulate it a little bit differently," he said.
"It's natural our position's will not be identical, our priorities may sometimes be a little bit different. But again, the good part of the relationship is today, that we understand that we have to make space for each other, and that we can work with each other, even if we do not entirely agree on every aspect of every issue," said the minister.
Jaishankar said overall the India-US ties are in a good place.
« Back to LIVE
TOP STORIES